Beware! Priority-markets.net is an offshore broker! Your investment may be at risk.
RECOMMENDED FOREX BROKERS
Don't put all your eggs in one basket. Open trading accounts with at least two brokers.
Priority-markets.net is a dubious website operated by a shady offshore company. And this is just the beginning of the list of reasons why we doubt that this is really the established forex broker it claims to be. Let's take a detailed look at the reasons why it's in your best interest to stay away from Priority-markets.net.
PRIORITY-MARKETS.NET REGULATION AND SAFETY OF FUNDS
The most important information about a financial services provider is its regulatory status. Licensed brokers provide detailed information about which company runs them, where it is based, which jurisdictions it is authorised in and which regulatory bodies oversee its activities.
The Priority-markets.net's homepage claims that the Kamuflaz Limited, company, based in Saint Vincent and the Grenadines (SVG), is behind the website.
Such a company can indeed be found among those registered in the SVG. But this does not provide any guarantees of customer protection. SVG is an offshore zone with no broker regulations in place. As soon as you open the website of the local Financial Services Authority  you see a warning that the institution does not licence forex and other types of brokers and does not supervise the activities of International Business Companies engaged in such activities.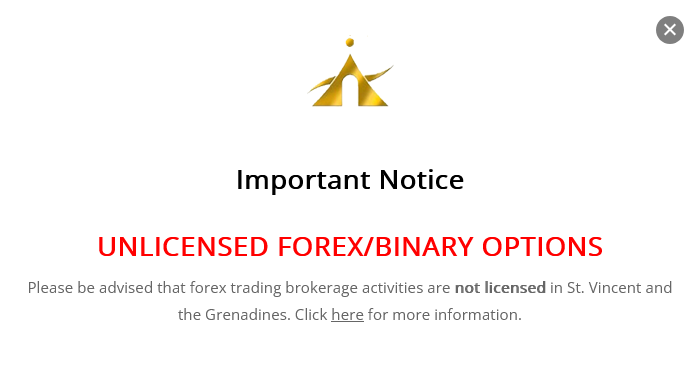 Some large brokerage firms set up offshore subsidiaries, including in SVG. The aim is to be able to compete successfully in unregulated emerging markets in Asia and Africa. But these companies want to maintain a good brand name, which is why they provide guarantees and transparency even for clients of their unregulated divisions. This cannot be said of the Kamuflaz Limited, which is simply an unregulated company that may or may not offer the services it claims.
It is important to point out that the Terms and Conditions and other legal documentation do not mention the name of a legal entity. In addition, another jurisdiction is mentioned alongside the SVG – Estonia. Such omissions and discrepancies are unacceptable for a legitimate financial services provider, and are typical for fraudulent websites.

You should only trust legitimate brokers operating in one of the established financial centres like the UK, EU, USA or Australia. There, the activities of brokers are controlled by powerful regulatory bodies such as UK's Financial Conduct Authority (FCA), Cyprus Securities and Exchange Commission (CySEC), Commodity Futures Trading Commission (CFTC) in US or Australian Securities and Exchanges Commission (ASIC). Clients of these brokers receive protections such as negative balance protection and segregation of the client's funds from the broker's funds.
In the EU and the UK, brokers must also participate in guarantee schemes that cover a certain amount of the trader's investment if the broker becomes insolvent. These guarantees amount to up to 20 000 EUR in the EU and 85 000 GBP in the UK. However, the likelihood of such a bankruptcy is low because regulators also have significant net capital requirements that companies must maintain – EUR 730 000 in UK and Cyprus, AUD 1000 000 in Australia and at least 20 million USD in the United States.
PRIORITY-MARKETS.NET TRADING SOFTWARE
Software is the most important tool for a forex trader, which is why authentic brokers pay great attention to the technological options they offer their clients. But Priority-markets.net doesn't mention a trading platform at all. At the time of writing this review, the new account registration form was not functional, which is why we were not able to find out if Priority-markets.net offers any trading software.
If you use the services of a licensed broker, you will get the opportunity to use established software with advanced features and versions for all types of devices and operating systems.  The most widely used trading platforms in the industry are MetaTrader 4 (MT4) and MetaTrader 5 (MT5). These platforms have established themselves as industry standard because they offer a wide range of features, including a variety of options for customization, multiple account usage, designing and implementing custom scripts for automated trading and backtesting trade strategies.
PRIORITY-MARKETS.NET TRADING CONDITIONS
Genuine forex brokers provide detailed information about the trading conditions. Legitimate companies also offer a variety of trading account types tailored to the needs of clients with different capital and investment intentions. These brokers also provide clear and detailed information on trading parameters – leverage, spread, commissions, order execution method, etc.
Priority-markets.net again differentiates itself from the websites of legitimate financial service providers. The website has a list of account types, but they do not include any information on trading parameters.
Only a minimum deposit of 500 EUR is specified, which is uncompetitive to say the least. Most licensed forex brokers allow you to start trading with ten times lower amounts. Many leading brands offer Micro and Cent accounts with a minimum deposit of as little as 5 or 1 USD.
It is clear from the Terms and Conditions that Priority-markets.net offers some types of bonuses, but nowhere is it specified specifically what they are. Regulated brokers are prohibited from using bonuses and promotions to attract clients. Fraudsters often use supposedly generous bonuses to tie potential victims to extortionate terms. The Priority-markets.net is no exception to this, as we will see below.
PRIORITY-MARKETS.NET DEPOSIT/WITHDRAW METHODS AND FEES
Priority-markets.net claims to allow deposits and withdrawals with many secure payment methods, including credit cards and bank transfer. We were unable to confirm what payment methods the Priority-markets.net actually uses. But experience with shady brokers of this type suggests that they do not use secure payment methods. In the most common case, they use cryptocurrency transactions, which do not allow the defrauded to ask for a refund.
While there are some legitimate brokers that accept digital currencies like Bitcoin, they do so alongside other transparent payment methods such as credit/debit card, bank transfer or popular e-wallets like Sofort, PayPal or Neteller.
Among the clauses in the Terms and Conditions of the Priority-markets.net we find a very typical scam trap. if the account has received a bonus, it is allowed to withdraw funds only after it has fulfilled very high requirements for minimum traded volume – 50 times the bonus amount.
Priority-markets.net  claims that it does not charge transaction fees, but at the same time states that the client must compensate the company with an amount of up to 25 EUR in case of bank transfer by the company in favour of the client.
There is also a significant fee of 50 EUR for accounts that are inactive for more than 90 calendar days.
HOW DOES THE SCAM WORK
The idea of passive income is increasingly attractive to more and more people. The Internet gives the impression that making money through investments in the financial markets is more accessible than ever to non-experts. But the online space is full of scammers who lure inexperienced wannabe traders through flashy advertisements and fake testimonials from satisfied clients. However, these fake brokers don't really invest the money you give them – even though they very confidently assure you that you are generating great profits and should invest even more.
But when you try to withdraw some of your supposed winnings or deposit, it turns out to be impossible. Scammers will tell you that a sudden change in the market has wiped out all your money, or point you to vague clauses in the Terms and Conditions that require a huge minimum volume traded. The victim of such a scam may also be surprised with hidden fees and taxes amounting to tens of percentages of their funds.
Holding fraudsters accountable is difficult because they operate through offshore companies that are uncontrolled and unregulated. In addition, scammers require that you provide them with a copy of your ID and proof of address so that they can claim that all transactions were voluntary and agreed upon by both parties.
WHAT TO DO WHEN SCAMMED
First of all, you should know that there is another kind of scammers who prey on victims of fake brokers. They claim they can refund your money for an upfront fee. The most realistic option to get at least some of your money back is to request a chargeback, but this is only possible if you used a credit or debit card for the transactions. Scammers usually insist on using cryptocurrencies, direct bank transfers or shady online payment platforms where refunds are impossible.