Beware! EverriseBrokers is an offshore broker! Your investment may be at risk.
RECOMMENDED FOREX BROKERS
Don't put all your eggs in one basket. Open trading accounts with at least two brokers.
EverriseBrokers represents itself as an established broker operating in multiple global financial centers, but provides no evidence for these claims. Before trusting your money to a broker it is imperative that you do a careful fact check. Such a check shows that EverriseBrokers is not what it claims to be. We are dealing with a typical online scam targeting people without enough experience and knowledge about financial markets.
EVERRISEBROKERS REGULATION AND SAFETY OF FUNDS
If a financial services provider is legitimate, you will find on its website clear and detailed information about the company that owns and operates it, where it is based, and what licences it has. Genuine brokers also provide access to a comprehensive set of legal documentation. The availability of such information does not guarantee that it is not false or misleading. But the absence of these elements is very indicative that in all likelihood you are dealing with scammers.
EverriseBrokers does not disclose which company owns and operates the website. The Terms and Conditions and other documents on the website do not name any legal entity or specify any applicable jurisdiction. Therefore, there can be no doubt that EverriseBrokers is lying when it states that it is based in Zurich and has branches in London and Singapore.
An anonymous website could not operate as a broker in these regulated jurisdictions. A check of the Swiss Financial Market Supervisory Authority (FINMA) database confirms our suspicions – the relator warns that EverriseBrokers is not authorised.
Before investing your money in financial instruments, it is imperative to make sure you do so through a licensed intermediary and not one of the many scammers lurking online. Under no circumstances should you trust your money to such anonymous websites full of false and contradictory information.
Instead, you can turn to one of the many companies that really work under the supervision of respected regulatory bodies like Cyprus Securities and Exchange Commission (CySEC) or Financial Conduct Authority (FCA) in the UK. As their customer you will enjoy a number of guarantees including negative balance protection and guarantee for your funds if the broker goes bankrupt, which goes up to EUR 20,000 in EU and 85,000 GBP in the UK. Regulations in the UK and EU include some important measures designed to improve investor protection and promote market integrity and transparency, such as transaction reporting. Regulated brokers are also required to segregate their operational funds from the client's money.
EVERRISEBROKERS TRADING SOFTWARE
Like many other fake brokers, EverriseBrokers has a web-based trading platform. The software is very basic and doesn't have the advanced features you'll find in the platforms used by real brokers. Scammers use the trading software in order to fool their victims that their money is really being invested. But this trading is entirely bogus.
If you use the services of a licensed broker, you will get the opportunity to use established software with advanced features and versions for all types of devices and operating systems. The most widely used trading platforms in the industry are MetaTrader 4 (MT4) and MetaTrader 5 (MT5). These platforms have established themselves as industry standard because they offer a wide range of features, including a variety of options for customization, multiple account usage, designing and implementing custom scripts for automated trading and backtesting trade strategies.
EVERRISEBROKERS TRADING CONDITIONS
Since we have determined that EverriseBrokers is not a licensed broker and is attempting to deceive us, it makes no real difference whether the trading terms it claims to offer appear favourable.
But the stated parameters on the website provide us with further evidence that EverriseBrokers could not really be a regulated broker.
The descriptions of the trading account types lack key information regarding the cost to the trader – spread and commissions. Order execution method and tradable instruments are not specified.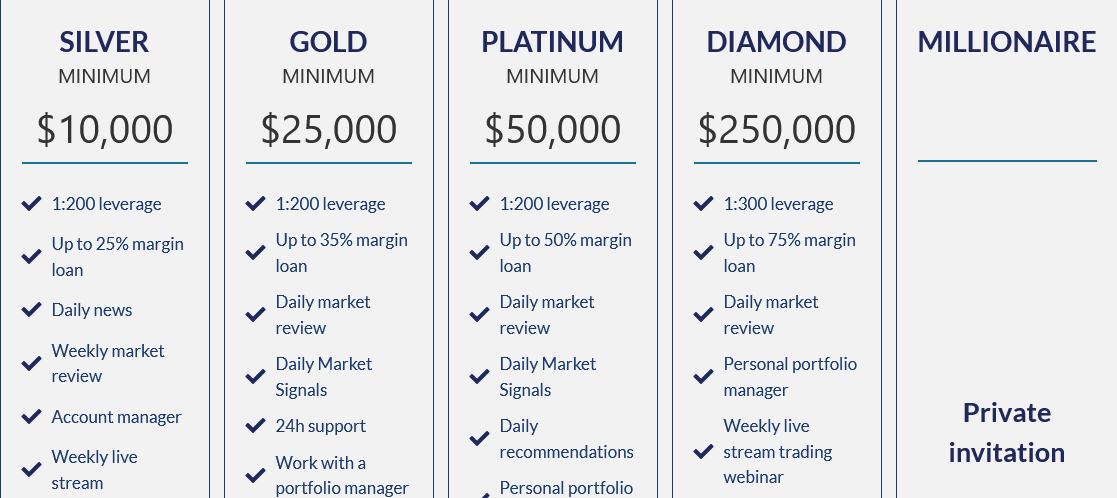 EverriseBrokers claims to offer leverage between 1:200 and 1:300. Regulated brokers do not offer such levels to retail traders as trading with high leverage carries risks of sudden and excessive losses. A maximum leverage of 1:30 is allowed in the European Union and the United Kingdom and 1:50 in the United States.
EverriseBrokers also promises bonuses, another practice banned by financial regulators. Only unregulated offshore brokers offer bonuses, and scammers use promises of bonuses to tie their potential victims to extortionate terms. EverriseBrokers is no exception, as we will see below.
The EverriseBrokers  states a ridiculously high minimum deposit for a starter account of 10,000 USD. The deposit menu has a more reasonable minimum of 150 EUR set. But you should know that many licensed brokers allow novice traders to start with an even lower minimum deposit.
EVERRISEBROKERS DEPOSIT/WITHDRAW METHODS AND FEES
On the website we see a statement that EverriseBrokers accepts credit/debit cards, bank transfer and Bitcoin as payment methods. But at the time of writing this review, there were no active payment methods on the EverriseBrokers deposit menu.
It is typical for financial scammers of this type to direct their victims to cryptocurrency transactions. The reason for this is that cryptocurrencies do not allow the defrauded to request a refund.
While there are some legitimate brokers that accept digital currencies like Bitcoin, they do so alongside other transparent payment methods such as credit/debit card, bank transfer or popular e-wallets like PayPal, Neteller or QIWI.
Further evidence of the fraudulent nature of EverriseBrokers is a clause in the Terms and Conditions which states that if a client has received a bonus, they can only withdraw funds after they have met minimum trading volume requirements. These requirements are extremely high – 40 times the amount of the bonus plus the deposit. Scammers use such tricks to block any withdrawal requests.
HOW DOES THE SCAM WORK
The hype surrounding cryptocurrencies has drawn public attention to the trading of financial instruments. However, the vast majority of people remain ignorant about financial markets. There are a growing number of scammers who are taking advantage of this by posing as brokers.
If you make contact with any of these sites that promise to make you rich effortlessly, they will first start convincing you to make a small "investment" of a few hundred dollars. If you prove susceptible, even more convincing scam artists will court you to give them even more money. They will probably even fool you into thinking that your initial investment has already generated profits.
But the truth is that your money will never be truly invested. It will go straight into the pockets of the crooks and you will probably never see it again. Scammers hide behind fake and offshore companies that are not subject to any regulation and control. They also often use non-transparent payment methods that make it difficult to track them and recover money. Your attempts to withdraw your supposed profits or deposit will be blocked by confusing clauses in the Terms and Conditions, prohibitively high volume requirements and huge withdrawal fees.
WHAT TO DO WHEN SCAMMED
Unfortunately, it is difficult to recover money given to such scammers. If credit or debit cards were used for the transfer, there is a chance if you ask for a chargeback. Visa and MasterCard allow this to be done within 540 days. But this method is not foolproof either, because fraudsters will ask you for copies of your ID and proof of address right from the start. This way they can claim to the card company that the transfer was voluntary and agreed by both parties.
It is important not to trust offers from people on the internet to recover your money from scammers for a fee.  Such  offers also come from scammers.