Beware! ImportCapital is an offshore broker! Your investment may be at risk.
RECOMMENDED FOREX BROKERS
Don't put all your eggs in one basket. Open trading accounts with at least two brokers.
ImportCapital promises very favourable conditions and wide opportunities for forex and CFD trading. But when writing this review we found no evidence that these promises are true. On the contrary, on this website we found many typical characteristics of financial scams. Let's take a detailed look at why it would not be wise to trust your money to ImportCapital.
IMPORTCAPITAL REGULATION AND SAFETY OF FUNDS
The most important information about a financial services provider is its regulatory status. Licensed brokers provide detailed information about which company runs them, where it is based, which jurisdictions it is authorised in and which regulatory bodies oversee its activities.
According to the website's homepage, ImportCapital is owned by the company  Incendiary Group LTD, based in the Commonwealth of Dominica.
This offshore zone is popular with financial fraudsters. Although this country has a financial regulator – Financial Services Unit, It does not licence or supervise forex brokers. This means that if you deal with a brokers registered there, they are completely unaccountable and you have no guarantees about the safety of your money – in fact, it is almost certain that they are scammers. The Commonwealth of Dominica also allows incorporation of totally anonymous International Business Companies (IBCs) which is very convenient for these scammers.
The same company is also represented as the owner of another shady broker we have reviewed, Trade-union.pro.
It should be noted that the Terms and Conditions and other documentation on the website do not name a legal entity or applicable jurisdiction, rendering these documents legally invalid. We don't actually know exactly who we are dealing with. We can only be certain of the fact that ImportCapital  is not a licensed and regulated forex broker.
You should only trust legitimate brokers operating in one of the established financial centres like the UK, EU, USA or Australia. There, the activities of brokers are controlled by powerful regulatory bodies such as UK's Financial Conduct Authority (FCA), Cyprus Securities and Exchange Commission (CySEC), Commodity Futures Trading Commission (CFTC) in US or Australian Securities and Exchanges Commission (ASIC). Clients of these brokers receive protections such as negative balance protection and segregation of the client's funds from the broker's funds.
In the EU and the UK, brokers must also participate in guarantee schemes that cover a certain amount of the trader's investment if the broker becomes insolvent. These guarantees amount to up to 20 000 EUR in the EU and 85 000 GBP in the UK. However, the likelihood of such a bankruptcy is low because regulators also have significant net capital requirements that companies must maintain – EUR 730 000 in UK and Cyprus, AUD 1000 000 in Australia and at least 20 million USD in the United States.
IMPORTCAPITAL TRADING SOFTWARE
The ImportCapital website promises an undefined version of the popular trading software MetaTrader. But after signing up for an account, we only get access to a basic web-based platform that is not MetaTrader. Here's what it looks like: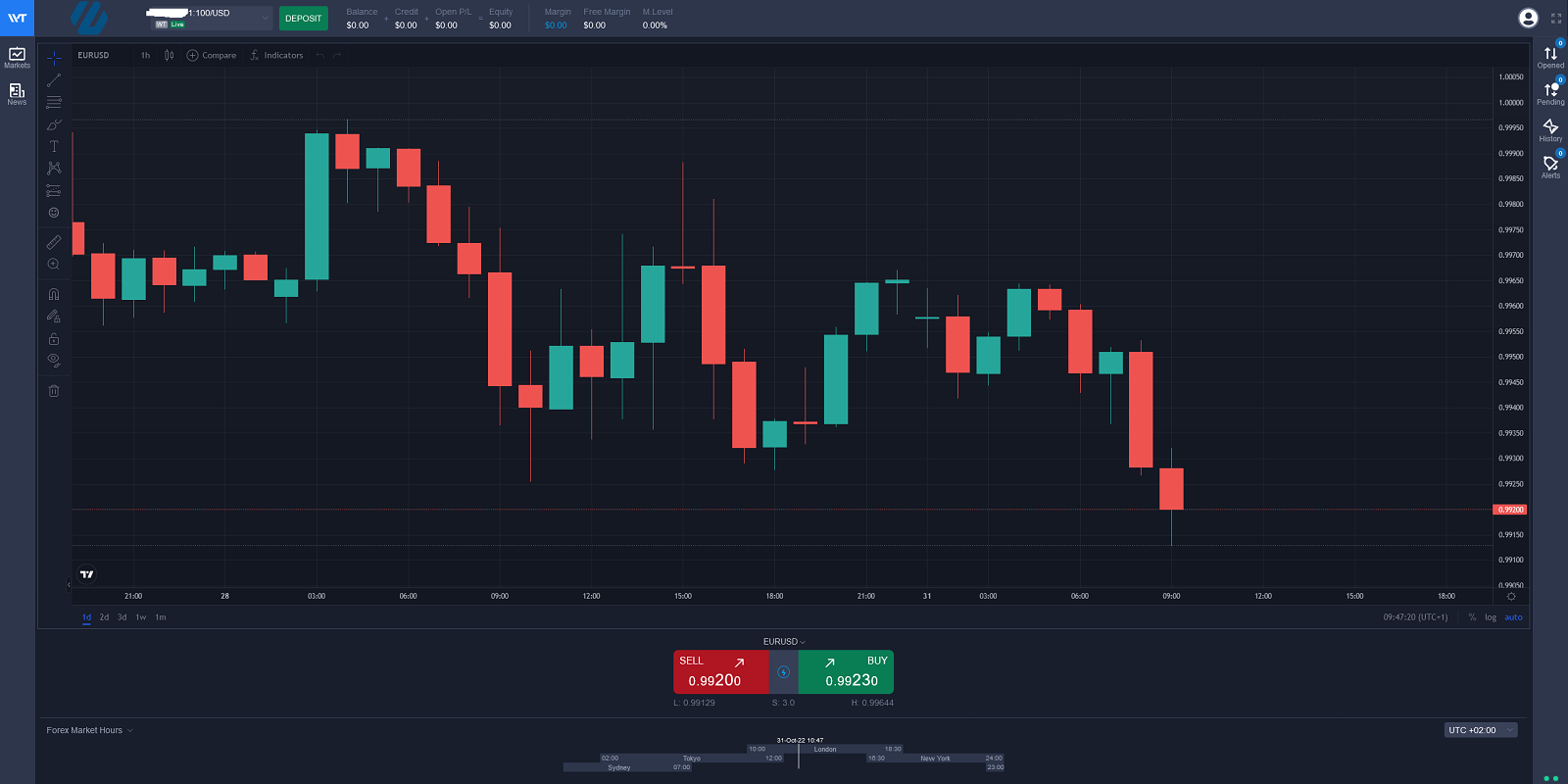 Such a discrepancy between the promised and actually offered software is a clear indicator that we are dealing with scammers. The presence of a trading platform does not make this website any more legitimate and does not guarantee that this alleged broker offers real trading. Many scammers have trading software to fool their victims that their money is being invested.
It is advisable to contact one of the many legitimate brokers that offer MetaTrader 5 (MT5) or the still very popular MetaTrader 4 (MT4). These platforms have established themselves as leaders because they offer a wide range of features, including a wide variety of options for customization, multiple account usage, designing and implementing custom scripts for automated trading and backtesting trade strategies.
IMPORTCAPITAL TRADING CONDITIONS
ImportCapital claims to offer five types of trading accounts and over 2000 trading instruments. But the website does not provide a list of tradable instruments and does not provide information on basic parameters such as order execution method.
The website also does not give information about the price paid by the trader. In the trading platform we see a spread of 3 pips. This level is double the industry average and very unprofitable for the trader.
The leverage reaches a level of 1:200. Regulated brokers do not offer such levels to retail traders as trading with high leverage carries risks of sudden and excessive losses. A maximum leverage of 1:30 is allowed in the European Union and the United Kingdom and 1:50 in the United States.

ImportCapital also promises bonuses, another practice prohibited to regulated brokers. The website does not provide information about the conditions attached to the bonuses. This is troubling because scammers often use supposedly generous bonuses to tie their potential victims to extortionate terms and hidden fees.
The minimum deposit is 250 USD. For the same amount you could start trading through a licensed broker. Many leading brands offer beginner traders Micro Accounts with a very low minimum deposit, sometimes as low as 5-10 USD.
IMPORTCAPITAL DEPOSIT/WITHDRAW METHODS AND FEES
The home page states that deposits and withdrawals can be made via credit and debit cards. In the deposit menu, however, the main options are cryptocurrencies. Payments with cryptocurrencies are not mentioned in the website and legal documentation of ImportCapital.
Scammers prefer cryptocurrencies because these transactions are not subject to refunds. Legitimate brokers typically offer clients a wide choice of transparent payment methods, including bank transfer and established e-wallets such as PayPal, Skrill, Neteller or QIWI. If you're interested in legitimate brokers that accept digital currency payments alongside conventional methods, check out this list.
The Terms and Conditions state that non-deposited money, including trading profits, are not considered client funds and cannot be withdrawn by default. If the account has been inactive for more than six months, ImportCapitalcharges an extremely high fee of 10% of the balance. These are typical scam clauses.
HOW DOES THE SCAM WORK
Unfortunately, the internet is full of scammers. In the age of cryptocurrencies, many of them pretend to be brokers and take advantage of people's desire to get rich easily through financial instruments they don't really understand.
Fake brokerage sites lure you in with promises to take on all the difficult and confusing aspects of investing for you. If you make contact with such sites, they will first convince you to make a small, "risk-free" investment of a few hundred dollars. Experienced scammers will then begin to persuade you to "invest" more and more money, and will even deceive you into believing that your initial investment is generating incredible profits.
But you will never see those profits or the money you deposited. These scammers hide behind fake names and offshore shell companies that are not subject to oversight and regulations like regulated brokers. They use cryptocurrencies or other shady payment methods that make refunding money difficult or often impossible. The terms and conditions of these sites are riddled with pitfalls that block withdrawals with impossible-to-fulfill conditions for minimum traded volume and extremely high fees reaching 10, 20 or more percent of the amount.
WHAT TO DO WHEN SCAMMED
If you find yourself in such a situation, you should be very careful not to fall into the clutches of other fraudsters while trying to recover your money. Offers from people on the internet who promise to get you your money back from scammers for an upfront fee are also one hundred percent scammers.
If you used a credit or debit card for the transactions to the scammers, there is some chance you can get your money back by requesting a chargeback. Visa and MasterCard allow this to be done within 540 days. But such a claim can be challenged if you have provided the scammers with documents such as a copy of your ID and proof of address.