Beware! Admiral Trades is an offshore broker! Your investment may be at risk.
RECOMMENDED FOREX BROKERS
Don't put all your eggs in one basket. Open trading accounts with at least two brokers.
Admiral Trades claims to be a forex broker offering an easy entry into the world of financial trading. But this website will not serve you well as an investment intermediary. Admiral Trades' only usefulness is that it provides us with a graphic example of online scam. In this review, we'll take a detailed look at the clues that reveal Admiral Trades is not the legitimate financial services provider it claims to be.
ADMIRAL TRADES REGULATION AND SAFETY OF FUNDS
Legitimate forex brokers provide clear and detailed information about the legal entity that owns and operates them, where it is based, what licences it has and which regulators oversee its activities. Lack of such details or improper presentation of them are always a red flag that we are probably dealing with a scam.
The Admiral Trades website does not disclose which company is behind this website. The only identifying information is a UK contact address.
However, a check of the UK's Financial Conduct Authority (FCA) register shows that there is no authorised broker using the Admiral Trades trading name.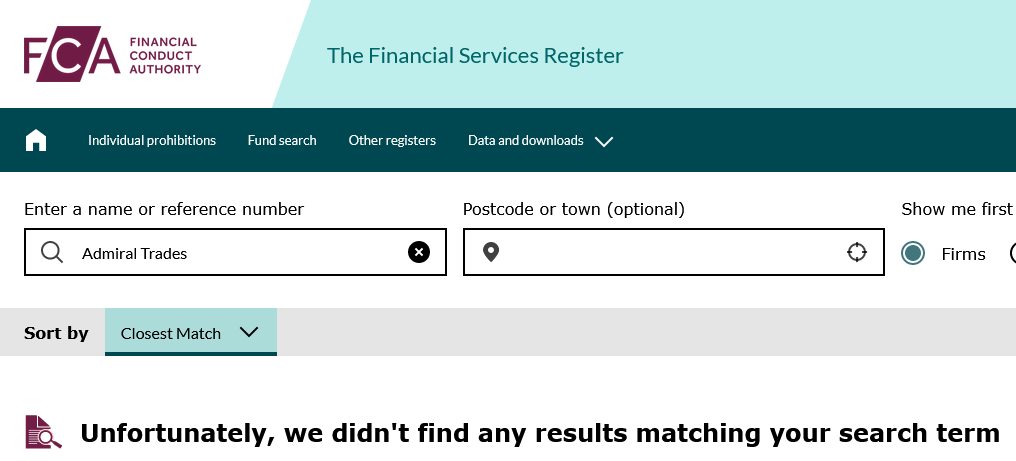 Admiral Trades provides access to only one document – the Terms and Conditions. These state that Admiral Trades a is a trade name of Pipe Ltd, which is based not in the UK but in the Marshall Islands.

In terms of regulatory oversight, these two jurisdictions represent diametric opposites. The Marshall Islands do not even have a financial regulator. This offshore zone also allows companies to incorporate entirely online. This makes the Marshall Islands a very convenient base of operations for financial fraudsters.
If you intend to invest in financial instruments, you should beware of the many fake brokers lurking online. Always check carefully whether the broker you choose really has the necessary licences. There are numerous benefits to working with a company that is truly authorised and supervised by a regulatory institution such as the FCA or some EU regulator like Cyprus Securities and Exchange Commission (CySEC).
As their customer you will enjoy a number of guarantees including negative balance protection and guarantee for your funds if the broker goes bankrupt, which goes up to EUR 20,000 in EU and 85,000 GBP in the UK. Regulations in the UK and EU include some important measures designed to improve investor protection and promote market integrity and transparency, such as transaction reporting. Regulated brokers are also required to segregate their operational funds from the client's money.
ADMIRAL TRADES TRADING SOFTWARE
Like many other fake brokers, Admiral Trades employs basic trading software. But the trading offered by these scammers is entirely fictitious. The software is rigged and serves only to deceive the victims of the scam that their money is really being invested.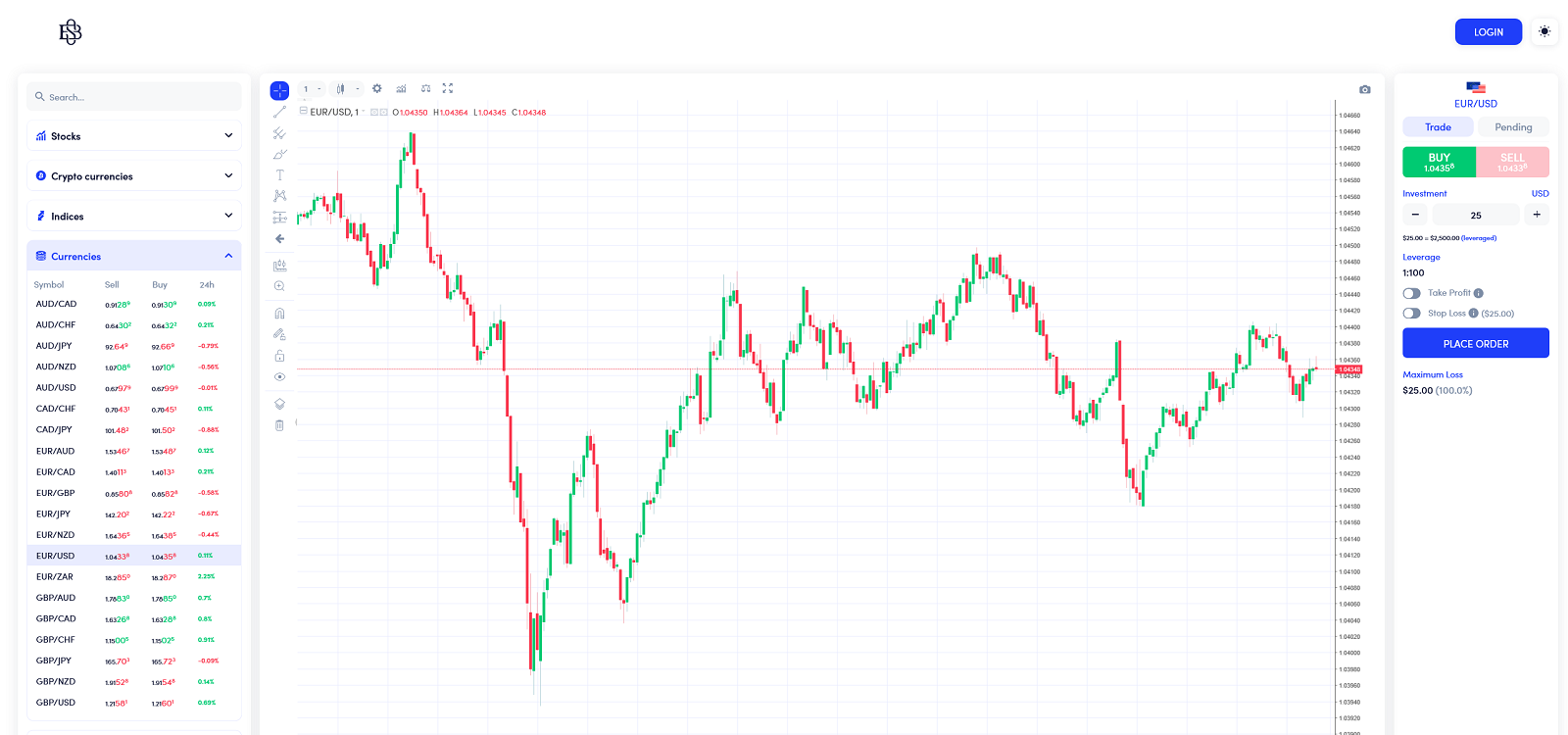 While this platform has the basic functionality to place orders, it cannot compare to the capabilities provided by MetaTrader 4 (MT4) and MetaTrader 5 (MT5). It is no coincidence that these platforms have established themselves as the industry standard. They offer a wide range of features, including a variety of options for customization, multiple account usage, designing and implementing custom scripts for automated trading and backtesting trade strategies.
ADMIRAL TRADES TRADING CONDITIONS
Admiral Trades claims to offer four types of trading accounts – Standard, Silver, Gold and VIP. The descriptions of the trading parameters provide us with further evidence that Admiral Trades could not really be a UK based forex broker.
First, Admiral Trades claims to offer cryptocurrency trading. But the FCA has a very strict attitude towards this asset class and prohibits trading in crypto derivatives.
Second, Admiral Trades promises bonuses, a practice that is banned by all financial regulators. Fraudsters often use promises of supposedly generous bonuses and promotions to bind their potential victims to hidden fees and other extortionate terms.
And third, Admiral Trades states that it offers leverage up to 1:500. This is not a level that you see with regulated brokers. Trading with high leverage allows higher profits, but also increases the risk of sudden and excessive losses proportionally. All leading regulators limit leverage for retail traders.
The FCA, like EU regulators, limits leverage to 1:30 for trading in major currency pairs and even lower levels for more volatile assets.
Admiral Trades promises a spread starting at 1.5 pips, which is comparable to industry averages. But as pointed out, scammers like Admiral Trades offer no real trade.
The specified minimum deposit is 250 USD. For that amount you could open an account with almost any licensed broker. Many leading brands allow you to start trading with even lower amounts, sometimes as low as 5-10 USD.
ADMIRAL TRADES DEPOSIT/WITHDRAW METHODS AND FEES
On the homepage of the website we see logos of payment methods such as credit cards, wire transfer and Bitcoin.
However, in the deposit menu itself, there is only one option – the unknown payment processor ChargeMoney. We have only seen this platform being used by other scammers.
Legitimate brokers typically offer clients a wide choice of transparent payment methods, including established e-wallets such as PayPal, Skrill, Neteller or Sofort. If you're interested in legitimate brokers that accept digital currency payments alongside conventional methods, check out this list.
Admiral Trades does not provide clear information on deposit and withdrawal fees and terms. But you can rest assured that if you make the mistake of trusting your money to such outright scammers, you will have a hard time getting it back.
How does the scam work
Many people have a desire to invest in the financial markets but lack the necessary knowledge and experience. This makes them a potential victim of the many internet scammers posing as brokers and investment intermediaries. These types of scams have exploded alongside the cryptocurrency boom.
If you trust such a website and give them your personal information, you will be contacted by experienced scammers who will entice you with promises of easy profits. The scammers usually offer to take over all aspects of investing for you, sometimes even prompting you to install remote access software on your personal computer. After investing an initial low amount, they will convince you that you are already making incredible profits and urge you to invest more.
But you will never get the promised profits, nor will you be able to get your money back. If you want to withdraw funds from your account, you will find that you have suddenly lost everything in the market, or that you have to meet impossibly high traded volume requirements, or that you have to pay huge fees. It is also possible that fraudsters simply disappear because they hide behind fake names and shell companies in offshore areas that are not subject to any control and regulation.
What to do when scammed
One of the few options to get at least some of your money back in such a situation is to ask for a chargeback. But this is only possible if you have used a credit or debit card for the transaction. Scammers typically use cryptocurrencies or dubious e-wallets that make it impossible to get your money back.
Under no circumstances should you trust people and websites that promise to magically refund your lost money for an upfront fee. This is also a well established scam. You may even fall victim to the same scammers again.