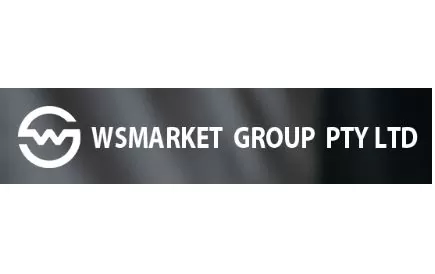 Beware! WSMARKET GROUP is an offshore broker! Your investment may be at risk.
RECOMMENDED FOREX BROKERS
Don't put all your eggs in one basket. Open trading accounts with at least two brokers.
WSMARKET GROUP is an offshore broker which doesn't have a license and offers its trading services without the permission of the local authorities. Not only that but it also lies about being an official representative of a reputable broker. If we add the unclear trading conditions and some misleading information on their website, we can certainly conclude that this broker is an outright scam and shouldn't be trusted. Keep reading for more details on why we think WSMARKET GROUP is a dangerous firm.
Regulation and safety of funds
On its website WSMARKET GROUP claims to be based in Australia and provides some basic contact information like phone number and email.
In order to offer its financial services in the country, every broker must be regulated by the Australian Securities and Exchanges Commission (ASIC). We searched their register – apparently there is a firm with this name which holds a license. However we highly doubt that it has anything to do with the WSMARKET GROUP we are dealing with. One downside of ASIC's register is that it doesn't provide any information about the broker's domains/ websites. This way any scammer can use the name of the reputable broker and its license number – exactly what WSMARKET GROUP which we are reviewing did. It bears all the hallmarks of a scam and is obviously some kind of clone website.
So obviously WSMARKET GROUP doesn't hold a forex license itself.
Furthermore on its website WSMARKET GROUP claims to be an corporate authorized representative of HLK GROUP PTY LTD – a reputable Australian broker with a legit forex license. This statement however turns out to be a shameless lie. We checked the website of HLK GROUP and found out that WSMARKET GROUP is not among their official representatives. Not only that but HLK GROUP also displays a warning that a lot of scam firms lie about being their representatives and points out how we can tell them apart. Take a look:
As you can see the official representatives always send their clients a letter stating that they have been accepted as a wholesale client. Needless to say that we didn't receive any message from WSMARKET GROUP.
All in all, apparently WSMARKET GROUP is a scam firm whose only goal is to deceive people. Its actions are not overseen by any financial authority so it clearly doesn't follow any rules. Stay away from such offshore brokers or you put your funds at serious risk.
Investing with a properly regulated broker on the other hand means that you can trade safely and benefit from good trading conditions for real.
Moreover, there are some rules and guidelines set by the local authorities that aim to protect all clients' interests and funds. Let's see some of them.
The first requirement states that every broker that wants to be granted a license must have an initial net capital. In Australia every regulated broker must have a minimum capital of 1 000 000 AUD. The amount varies in different parts of the world. For example in the US the amount is much more – 20 000 000 USD, whereas for the EU and the UK it's 730 000 EUR. This capital serves as a proof of the company's financial stability and is not to be used for its operational activities.
Unfortunately the requirement for participating in compensation schemes doesn't apply to Australia and the US – one downside in their regulation. In Europe on the other hand this requirement is valid and every licensed broker must take part in compensation schemes. This means that all brokers are obligated to set aside part of their profits – then in the unlikely event of bankruptcy a relevant authority can compensate the client for up to a certain amount. For example in the UK the amount payable is up to 85 000 GBP. In the EU the compensation varies – for most of the countries it's up to 20 000 EUR and in others it's even more – for instance up to 70 000 EUR in France.
Another requirement that every regulated broker must meet is to keep its customers' funds in segregated accounts. In other words your money is stored apart from the company's own capital and is certainly safe from any kind of fraud. This rule applies for Australia and the rest of the world. WSMARKET GROUP also claims to use segregated accounts, but we highly doubt it given the fact that this broker is absolutely unlawful.
Trading software
On its website WSMARKET GROUP claims to offer the industry standard MetaTrader 5. We would like to draw your attention to the fact that HLK GROUP clearly states that its representatives don't operate MetaTrader 4 or MetaTrader 5. One more proof that WSMARKET GROUP lies about being their representative.
Unfortunately we weren't able to open a real account on their website in order to verify this information. Apparently WSMARKET GROUP requires you to upload an ID image along with the rest of your personal information. Given the fact that this broker is absolutely unlawful and lies using another reputable broker's name is reason enough to not want to provide such personal data. This is also what you should do – just avoid this shady firm by all means!
However we managed to access their platform through the web version – WSMARKET GROUP really provides MetaTrader 5 for sure.
We also opened a demo account and got access to this platform:
WSMARKET GROUP also displays one more false information – it claims that MT5 can be accessed through iPhone or iPad, but this is simply not possible at the moment. The reason being that recently Apple has removed both MetaTrader 4 and MetaTrader 5 from its AppStore.
Better look for regulated brokers with proven reputation and a legit license. These brokers offer demo accounts for real and the best possible trading platforms – MetaTrader 4 and MetaTrader 5.
Most reputable brokers usually rely on more sophisticated trading platforms like MetaTrader 4 and MetaTrader 5. They are proven to be the best piece of software for trading purposes nowadays and have been downloaded by millions of people so far.
MetaTrader 4 and MetaTrader 5 happen to be the most popular trading platforms around the world. Both brokers and traders praise them for a good reason, mainly because of how secure and stable they are. You can always rely on them to execute your orders promptly and efficiently. Not only that but all the essential information such as transactions and your IP address is encrypted.
MetaTrader 4 and MetaTrader 5 have some outstanding features but the best one according to traders are the Expert Advisors. These bots have one particular task – to search for certain conditions and to start trading the moment they find them. A truly unique feature that only MT4 and MT5 can brag about.
MetaTrader 4 and MetaTrader 5 are perfect for beginners as well for more advanced traders. You can keep your knowledge up to date with a variety of educational resources and daily forex news. They are also very easy to navigate – you don't need any previous experience in order to use them. MT4 and MT5 can be downloaded on different devices like PCs, smartphones and tablets.
Unfortunately not long ago Apple removed both of them from its AppStore so MT4 and MT5 can't be downloaded on Android devices anymore. We really hope this measure is temporary. As for the users that have already downloaded the app, they can continue using it but without any future updates or upgrades. MetaTrader 4 and MetaTrader 5 can still be installed through Google Play Store.
Trading Conditions
We couldn't find a lot of useful information about their trading conditions as well. On its website WSMARKET GROUP mentions that it offers ultra low spread, but doesn't specify anything else about it. After we opened a demo account it turned out that the spread is 1.5 pips, which is in fact ok for trading. With most scammers the spread is higher than 2 pips and comes with high trading costs. Remember to always look for reputable brokers that offer spread less than 2 pips as it isn't as costly.
As for the leverage WSMARKET GROUP offers, they claim it to be as high as 1:400. This is extremely high leverage that is not recommended for retail traders at all. In fact it may be very dangerous and speculative and comes with an inevitable risk of losing your funds entirely. In fact it seems more like a gambling rather than actual trading. Furthermore in the EU and Australia the leverage is limited to 1:30, whereas in the US it's 1:50. This measure aims exactly to minimize the potential risk.
In case you still want to take the risk and trade with high leverage, we advise you to choose some of the offshore subsidiaries of reputable brokers here.
WSMARKET GROUP also doesn't specify if it offers any different account types. We also don't know the minimum deposit they require. Usually reputable brokers ask for 250 USD of minimum deposit or even less – sometimes you can open an account with 10 USD. In the case of WSMARKET GROUP do expect a higher amount of minimum deposit – it's typical for scammers to ask for 1000 USD or even more.
Deposit/ Withdrawal methods and fees
As we weren't able to register on the website we can't really confirm what payment methods WSMARKET GROUP accepts.
At the bottom of their website however are displayed some logos of popular worldwide banks – UBS (a bank in Switzerland), Bank of America, JPMorgan and HSBC (a bank in the UK) to name a few. Take a look:
No specific payment methods are mentioned however. As you see WSMARKET GROUP uses popular names from the financial sector just to gain your trust, but in fact it most probably doesn't accept any payment method different from cryptocurrencies.
Scammers prefer transactions with crypto coins and usually insist on using this particular payment method for a reason. Firstly, it is proven to be absolutely irreversible, so you can't return your money no matter what. Once the transaction is completed your funds are gone for good. Moreover crypto transactions are in fact anonymous – you never know to whom the wallet actually belongs so you can't prove anything. Besides, given the fact that you are dealing with scammers that are not regulated by any official authority, you can't turn to a local institution for help.
As you see, cryptocurrencies being the only possible payment method is a clear sign of fraud. Reputable brokers always accept some more payment options – for example traditional methods like bank transfer, Visa/MasterCard or popular e-wallets like PayPal, Skrill and Netteler are very commonly seen on their websites. Using one of these payment methods doesn't prevent any further fraud, but at least gives you the opportunity to file for a chargeback (refers to credit/debit cards) or open a dispute (e-wallets).
How does the scam work
Never underestimate online scammers as they happen to be unexpectedly inventive and come up with different ideas on how to deceive people literally every day. Most importantly, remember that offshore brokers don't have any intention to actually invest your money and don't care about your prosperity. Their only goal is to make you invest as much as you can and then drop out of sight completely (with your money of course). There are some techniques that are a red flag, so if you come across them, just flee as fast as you can.
Firstly, scammers would try to reach out to you via email or phone, so providing such information carefree is not a good idea. If they succeed in getting this material however do expect a lot of phone calls and emails that contain their promise to double your investment – "risk-free" indeed.
They might also guarantee a very high return on investment without any hard work from your side. This sounds ridiculous already – any investment on the forex market holds more or less risk and requires some knowledge. In fact regulated brokers are obligated to post a warning about trading risks on their websites.
The next step in scammers` fraudulent practice is to manipulate their trading software and make it look as if your funds are being invested and you make huge profits at the same time. This is also a lie with no doubt. Scammers just want to make you invest a "little more" again and again and will take advantage of you as much as they can.
They might also offer some kind of welcome bonus just to make you get in the game. Note that such bonuses come with strings attached – a very high volume requirement you certainly won't be able to achieve. Not only that but reputable brokers in the EU are restricted from offering such bonuses or promotions exactly because of this malicious practice.
Unfortunately most people realize that all of the above is a lie when it's too late. Once you try to withdraw any funds from your account you will find out that this is impossible. First however scammers might ask for a certain fee upon the withdrawal request – 10% or even 20%. Note that most reputable brokers don't ask for a fee at all. Anyway, there's no point in paying this fee, because even if you do, you still won't be allowed to withdraw your money. Therefore you may end up losing everything.
What to do when scamed
Certainly there are some Dos and Don'ts when it comes to online scam.
Your first move has to be to turn to the bank that issued your credit or debit card in case you paid with one and file for a chargeback in 540 days. If you have used Skrill, Neteller or PayPal you can also open a dispute. Unfortunately crypto transactions are irreversible and anonymous as we already said, so they are not eligible for a chargeback.
It's also 100% sure that you shouldn't turn to people on the internet who suggest restoring your stolen funds in exchange for a certain fee. These people are most probably also fraudsters, so don't take the risk of losing even more money!