Beware! Qxbroker.com is an offshore broker! Your investment may be at risk.
Don't put all your eggs in one basket. Open trading accounts with at least two brokers.
Qxbroker.com, or Quotex, is an offshore-based binary options broker. That alone provides us with good enough reasons to steer clear of this website. On top of that, Qxbroker.com is a new reincarnation of a shady broker we've already reviewed – quotex.io. In this review, we'll take a detailed look at the reasons why it's advisable to look for a more trustworthy investment intermediary.
QXBROKER.COM REGULATION AND SAFETY OF FUNDS
The most important information about a financial services provider is its regulatory status. Licensed brokers provide detailed information about which company runs them, where it is based, which jurisdictions it is authorised in and which regulatory bodies oversee its activities.
The company that owns and operates this website is Maxbit LLC, which is listed as being based in Saint Vincent and the Grenadines (SVG). Such a company can indeed be found among those registered in the SVG. But this does not provide any guarantees of customer protection. SVG is an offshore zone with no broker regulations in place.
As soon as you open the website of the local Financial Services Authority  you see a warning that the institution does not licence forex and binary options brokers and does not supervise the activities of International Business Companies engaged in such activities.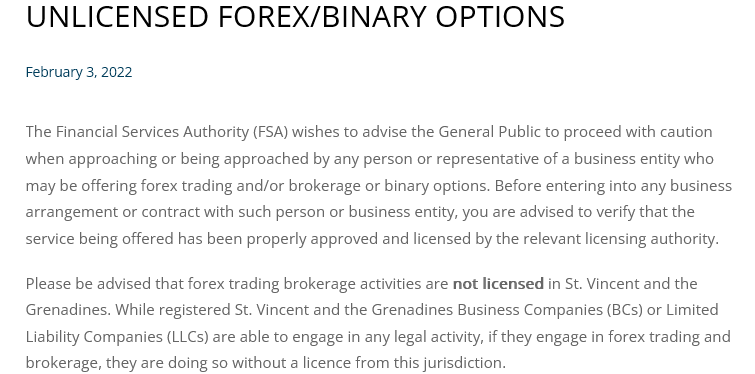 If you have decided to invest in financial instruments, and especially if you are a novice trader, you should use the services of a licensed forex and CFD broker based in a jurisdiction with strong regulations.
Depending on your location, it is advisable to choose a company that is regulated by an institution such as Commodity Futures Trading Commission (CFTC) in US, Australian Securities and Exchanges Commission (ASIC), UK's Financial Conduct Authority (FCA) or some EU regulator like Cyprus Securities and Exchange Commission (CySEC).
Clients of these brokers receive protections such as negative balance protection and segregation of the client's funds from the broker's funds.  In the EU and the UK, brokers must also participate in guarantee schemes that cover a certain amount of the trader's investment if the broker becomes insolvent.
These guarantees amount to up to 20 000 EUR in the EU and 85 000 GBP in the UK. However, the likelihood of such a bankruptcy is low because regulators also have significant net capital requirements that companies must maintain – EUR 730 000 in UK and Cyprus, AUD 1000 000 in Australia and at least 20 million USD in the United States.
QXBROKER.COM TRADING SOFTWARE
Qxbroker.com uses a rudimentary web-based trading platform. Admittedly, more advanced software is not needed for binary options trading. But it should be noted that the presence of any trading platform does not guarantee that this trading is real and not fictitious. Fraudsters posing as online brokers use counterfeit software to fool their victims into thinking that their money is really being invested.
If you use the services of a licensed forex broker, you will get the opportunity to use established software with advanced features and versions for all types of devices and operating systems. The most widely used trading platforms in the industry are MetaTrader 4 (MT4) and MetaTrader 5 (MT5).
These platforms have established themselves as industry standard because they offer a wide range of features, including a variety of options for customization, multiple account usage, designing and implementing custom scripts for automated trading and backtesting trade strategies.
QXBROKER.COM TRADING CONDITIONS
Binary options are financial options that come with one of two payoff options if the contract is held until expiration: a fixed amount or nothing, depending on whether the trader has guessed whether the price of a certain asset will be below or above a certain level at a certain time.
This is a very simple way to trade the financial markets, but it is this simplicity that makes it prone to scams and exploits. Binary options trading is banned in a number of major markets such as the EU, the UK and Australia. In the US, this trading is still legal but can only be done through the small number of regulated U.S. exchanges, known as Designated Contract Markets (DCMs).
Qxbroker.com offers a payout between 72% and 82% depending on the instrument being traded, which is on the low side for this type of trade.
The required minimum deposit is 10 USD. The low amount shouldn't tempt you – there are plenty of licensed forex and CFD brokers that allow you to get into financial trading with low financial risk.
Qxbroker.com places great emphasis on offering deposit bonuses. Regulated brokers are prohibited from offering customers bonuses and promotions. The Terms and Conditions state that the bonus is subject to minimum traded volume conditions, but nowhere can a detailed description of these requirements be found.
QXBROKER.COM DEPOSIT/WITHDRAW METHODS AND FEES
Qxbroker.com claims it does not charge transaction fees and allows deposits and withdrawals via credit/debit cards, a host of different cryptocurrencies and two obscure payment processors – the Hong Kong-based PerfectMoney and Russia's Piastrix. But the first option is not available if the account is not verified.
The minimum withdrawal amount is 50 USD with cryptocurrencies and 100 USD with other payment methods. The emphasis on cryptocurrency transactions represents a red flag. Scammers prefer cryptocurrencies because these transactions are not subject to refunds.
While there are some legitimate brokers that accept digital currencies like Bitcoin, they do so alongside other transparent payment methods such as bank transfer or popular e-wallets like Skrill, PayPal, Neteller or Sofort.
If the account has benefited from a bonus, withdrawals are only allowed after meeting the turnover requirements tied to the bonus. As stated, these requirements are not clearly presented. Such opacity is typical of financial scammers, not legitimate brokers you can trust with your money.
HOW DOES THE SCAM WORKS
Fake brokers are a type of scam that has spread especially rapidly in recent years, aided by the excitement surrounding cryptocurrencies. People looking for ways to make money online can very easily come across one of the many scam websites of this type. Scammers are very skilled at convincing people to invest – first small amounts of a few hundred dollars, and then larger sums of money. Some of the scam schemes are quite elaborate and even use trading software to convince victims that their money is actually being invested and even racking up profits.
But when you ask to withdraw those winnings, or even your deposit, you'll find it's impossible – you'll be told that a sudden change in the market has wiped out all your money, or that you have to meet impossible minimum trading volume requirements and pay huge fees and commissions hidden in the terms and conditions. Fraudsters can also simply disappear because they use fake names and offshore shell companies for their operations.
WHAT TO DO WHEN SCAMMED
If you find yourself scammed, the first thing you should do is notify the financial authorities in your country about the scammers' activities, and spread the word online to warn other potential victims.
Your options for getting your money back are limited. If credit or debit cards were used for the transactions to the scammers, you have the option to request a chargeback. Companies like Visa and MasterCard now allow such requests to be made up to 540 days after the transaction. But keep in mind that if you have provided proof of your identity to the fraudsters, they may dispute that the transaction was voluntary. In addition, fraudsters typically use cryptocurrencies and shady e-wallets that do not allow refunds.
Victims of scams are often targeted by another type of online fraudsters who promise that their money can be refunded for an upfront fee. Under no circumstances should you trust such offers.