Beware! AstroTradex is an offshore broker! Your investment may be at risk.
RECOMMENDED FOREX BROKERS
Don't put all your eggs in one basket. Open trading accounts with at least two brokers.
AstroTradex bears all signs of scam possible – it isn't regulated by any financial authority (even though it claims otherwise), there is no data about its trading conditions and it also lies about the payment methods it accepts. On top of that this broker provides a really basic chart instead of a real trading software, so don't expect that you can really trade here. All you can actually do is to deposit in cryptocurrency and lose your money instantly, since scam brokers like this one will do anything possible to prevent you from withdrawing even a cent. The problems with AstroTradex are countless so we are going to pay attention to every detail regarding this shady broker. Just keep reading.
Regulation and safety of funds
AstroTradex claims to have multiple offices around the world – the main one being in Ireland and the rest in Dubai, Australia and Canada just to name a few. This broker also claims to be globally regulated and lists many financial regulators like ASIC (Australia), the Central Bank of Ireland, FSCA (South Africa) and many more. So far so good.
Its true colors came to light the moment we searched the registers of the above mentioned institutions. It turned out that AstroTradex isn't licensed by any of them and just tries to mislead potential clients into believing it's reputable. Here are the search results from the website of the official financial regulator of Ireland – the Central Bank, take a look: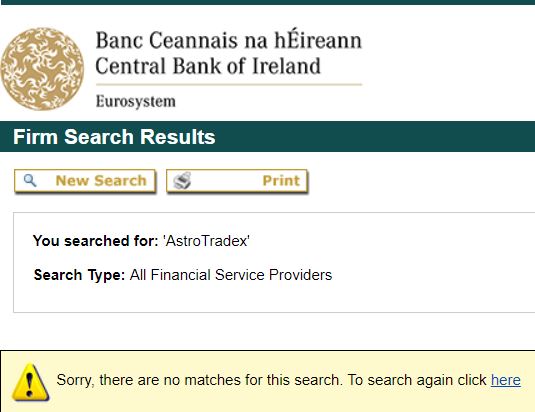 Even though it was clear from first glance that this broker is a scam, we decided to check all of the above listed regulators. Down below you can see the results from the official registers of the Australian local regulator – ASIC: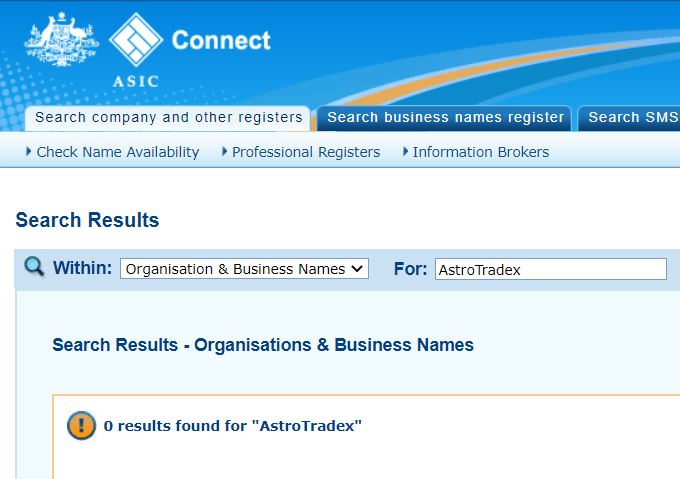 And it's the same with the rest of the institutions that AstroTradex claims to regulate it – this broker isn't authorized to offer financial services and operates outside the law. Obviously this is a fraud scheme run by scammers whose only goal is to rip off uninformed traders.
Remember that investing with such unregulated firms comes with the inevitable risk of getting scammed – and if such a nightmare experience actually happens, no financial authority would be able to help you any more. Since unlicensed brokers are not supervised by any watchdog you can't get any client protection in case things go up in smoke. That's why you should always go in search of a reputable broker with a legit forex license.
For example regulated brokers in Ireland are obligated to meet a ton of requirements in order to be granted a license and to operate legally. They must have at least 730 000 EUR of minimum net capital and also to store their clients' money in segregated trusted accounts. What's more, being part of the EU, Irish licensed brokers must also take part in compensation schemes which aim to guarantee your safety of funds in case the broker goes bankrupt. If such an unfortunate event really happens, you can be issued up to 20 000 EUR of compensation.
Trading software
AstroTradex claims to offer the well-known MetaTrader 4 and MetaTrader 5, as well as its own trading platform AstroTradexGo. We registered straight away just to face yet another disappointment.
What AstroTradex really offers is a simple chart that has nothing to do with real trading platforms. See for yourself:
This chart, powered by TradingView, has some custom indicators, but can't be used for trading at all, since there are no Ask and Bid options. What's more it doesn't give any information about the spread or leverage this broker offers.
In addition, there was no MT4 or MT5 available, so obviously this is yet another falsehood of this broker.
All in all, better refrain from investing here and look for a legitimate broker instead. This way you would be able to use the advanced trading software of MetaTrader 4 or MetaTrader 5 for real.
MT4 and MT5 are appropriate even for both advanced traders and beginners. You can be assured that the safety of your funds and personal information is granted as all transactions are encrypted as well as your IP address.
You can also choose between a wide range of educational resources, forex news and technical analysis tools. Most of the customers consider the trading bots to be the best part however. These bots, also called Expert Advisors, analyze the forex market in a search of certain conditions and then perform trading operations once they find them.
MT5 and MT4 can be easily downloaded on PCs, smartphones and tablets and have regular updates. Unfortunately, since Apple removed both MetaTrader 4 and 5 from its AppStore, these platforms can't be downloaded any more from iPhone/ iPad users. All of you that have already installed the apps can continue using them, but without the above-mentioned updates. On the contrary you can still download MT4 and MT5 from Google Play Store.
Trading conditions
AstroTradex doesn't mention anything about its trading conditions or at least the types of accounts it offers. This is unacceptable given the fact that most reputable brokers usually display what leverage, spread and minimum deposit to expect so you can decide if they suit you or not.
In the case of AstroTradex we had to register in order to find out what was important for us. Unfortunately even then there was no data, as the trading platform didn't help either.
Just as you know, always try to invest with spreads less than 2 pips as they come with lower trading costs. There are plenty of genuine brokers who offer tight spreads so better turn to one of them.
As for the leverage, keep in mind that there is a leverage cap in most of the countries that regulate forex brokerage activities – in Ireland it's 1:25 which is a bit less than the limit for most of the countries in the EU (1:30). If you want to invest with higher leverage we suggest looking at some of the offshore subsidiaries of reputable forex brokers.
In addition, the standard amount of minimum deposit that most legitimate brokers ask for is 250 USD or even less – micro accounts require around 10 USD. Of course we don't recommend investing with AstroTradex no matter what minimum deposit it offers, as this broker is absolutely unlawful.
Deposit/Withdrawal methods and fees
On its website AstroTradex claims that it accepts a variety of payment methods like credit cards, wire transfer, WebMoney as well as popular e-wallets like Neteller and Skrill.
After we opened an account however things turned out to be completely different. There were only crypto transactions available – with Bitcoin, Ethereum, Tether and Bitcoin Cash to be precise. See for yourself:
Obviously this broker lies about its payment options just to win your trust and make you register. The reality is that you can make a deposit only via crypto coins and this is problematic for a couple of reasons. The main one is that these transactions are proven to be 100% irreversible and anonymous at the same time so you won't be able to get your money back no matter what. Stay away from this scam firm by all means!
How does the scam work
Be very careful to whom you provide your personal information like email or phone number. The moment scammers have your number they will start calling you in an attempt to make you invest right away.
They will most certainly assure you that trading with them is risk-free, which is highly doubtful at least to say. Also be prepared to hear that you can get a fast and incredibly high return on investment – this is also a shameless lie of course. Scammers tend to sweet-talk traders into making a deposit and then vanish like thin air.
Before that however they might try to manipulate their trading software so it looks as if your money is being invested. They might also fool you into believing that your results are very profitable. This is done with one specific purpose – to make you invest even more before you find out that everything is a lie.
Expect all kinds of hidden fees the moment you try to withdraw even a cent and what is the worst part – to find out that a withdrawal is declined no matter what you do.
What to do when scammed
If you have been scammed, the first thing you can do is to turn to the bank that issued your credit or debit card and ask for a chargeback. If you have paid with your Visa/ Mastercard, a chargeback is eligible within 540 days.
Wire transfers are more difficult to return, and the best thing you can do in this situation is to change your online banking username and password as soon as possible.
Using payment methods like Neteller, Paypal or Skrill also gives you the opportunity to open a dispute in case of online scam.
Unfortunately crypto transactions are irreversible as we already stated and therefore your money can not be returned. All in all we advise you not to trust brokers that use only crypto coins such as Bitcoin or Ethereum.
Last but not least, certainly don't trust people on the internet offering to return your funds only after you pay a certain fee. They might also be scammers so don't risk losing more money than you already have!