Beware! Exclusive Trade FX is an offshore broker! Your investment may be at risk.
RECOMMENDED FOREX BROKERS
Don't put all your eggs in one basket. Open trading accounts with at least two brokers.
If the information on the Exclusive Trade FX  website is to be believed, it is a multi-regulated forex broker active in many global markets. But even a superficial check of the facts reveals that this is not true. Exclusive Trade FX is actually a low-effort scam targeting the money of people without enough experience and knowledge of the financial markets. Let's examine why it is in your best interest to stay away from this website.
EXCLUSIVE TRADE FX REGULATION AND SAFETY OF FUNDS
Legitimate forex brokers provide clear and detailed information about the legal entity that owns and operates them, where it is based, what licences it has and which regulators oversee its activities. Genuine brokers also provide access to a comprehensive set of legal documentation. The availability of such information does not guarantee that it is not false or misleading.
Exactly such a case of misinformation we have with Exclusive Trade FX . The website claims that there are two companies behind this broker, Exclusive trade FX Group Ltd and Exclusive Trade FX Overseas Ltd, holding licences from Cyprus Securities and Exchange Commission – CySEC,  UK's Financial Conduct Authority – FCA, German Bundesanstalt für Finanzdienstleistungsaufsicht – BaFin, French Autorité de Contrôle Prudentiel et de Résolution – ACPR and the Vanuatu Financial Services Commission.
A check of the databases of all these regulators shows that there is no authorised broker using the trade name and domain of Exclusive Trade FX. In all likelihood, the named legal entities do not exist at all.
In fact, the licence multiplier mentioned in CsiSec belongs to the broker JFD Group operating through the domain jfdbrokers.com. And the UK FCA explicitly warns that Exclusive Trade FX  is a scam, not a licensed provider of financial services and products:
Exclusive Trade FX  does not provide access to the Terms and Conditions or Customer Agreement.
When choosing a broker through which to invest in the financial markets, you should not only make sure that all the information required by law is available, but also that this information is true. Always check that the company is indeed on the records of the specified regulator and that the domain used is among those officially approved for the particular broker.
Invest only through companies that you can confirm are truly working under the supervision of respected regulatory bodies like CySEC or FCA.
As their customer you will enjoy a number of guarantees including negative balance protection and guarantee for your funds if the broker goes bankrupt, which goes up to EUR 20,000 in EU and 85,000 GBP in the UK. Regulations in the UK and EU include some important measures designed to improve investor protection and promote market integrity and transparency, such as transaction reporting. Regulated brokers are also required to segregate their operational funds from the client's money.
EXCLUSIVE TRADE FXTRADING SOFTWARE
Exclusive Trade FX  says it offers customers a choice between three trading platforms – MetaTrader 5 (MT5), MetaTrader 4 (MT4) and Guidants.

But this is yet another lie. After registering an account, we find out that Exclusive Trade FX  does not have any functioning trading software. All we see on the dashboard is a very unconvincing "demo trader" featuring shares of Apple and Gazprom. We've seen this poor imitation at numerous other fake brokerages we've reviewed.
But even if Exclusive Trade FX had a more convincing platform, that would not make this website credible. Fake brokers use trading software to mislead their victims that their money is really being invested. But this trade is entirely sham.
There are plenty of legitimate, regulated brokers who enable their clients to take advantage of MT4 and MT5's capabilities.
These platforms have established themselves as leaders because they offer a wide range of features, including a wide variety of options for customization, multiple account usage, designing and implementing custom scripts for automated trading and backtesting trade strategies.
EXCLUSIVE TRADE FXTRADING CONDITIONS
Registration requires a choice between five types of trading accounts, but Exclusive Trade FX  does not provide a description of the associated terms and conditions.
When you visit the website of a legitimate broker you will find proposals for different types of trading accounts suitable for investors with different preferences, as well as detailed descriptions of trading parameters – minimum deposit, order execution method, tradable financial instruments, leverage, spread, swap, commissions, etc.
Exclusive Trade FX  website only states that leverage up to 1:400 is being offered. This in itself is evidence that this could not really be a licensed broker operating in the European Union and the United Kingdom.
Regulated brokers do not offer such levels to retail traders as trading with high leverage carries risks of sudden and excessive losses.
The European Securities and Markets Authority (ESMA) and accordingly all EU regulators limit leverage to 1:30 for major currency pairs, 1:20 for non-major pairs, gold and major indices, 1:10 for other commodities and non-major indices, and 1:2 for cryptocurrencies. The same rules are followed by FCA.
Regulated brokers offer higher leverage only to professional clients who must meet very high standards for capital and experience and forgo the guarantees enjoyed by retail traders.
If you don't qualify as a professional trader but are willing to take the risk of high-leverage trading, the most viable option is to use the services of an offshore affiliate of an established brand.
Exclusive Trade FX  requires a minimum deposit of 300 USD. For a significantly lower amount, you could open an account with most brokers that are indeed licensed by the respected regulators listed on the Exclusive Trade FX website.
EXCLUSIVE TRADE FXDEPOSIT/WITHDRAW METHODS AND FEES
Exclusive Trade FX  deposit menu is not available if the account is not verified by providing a copy of ID. Therefore, we were unable to determine what payment methods Exclusive Trade FX uses.
Experience with scams of this type has shown that fraudsters direct their potential victims to payment methods that do not allow refunds or chargebacks, most commonly cryptocurrencies. This suspicion is confirmed by the message that pops up when opening the website: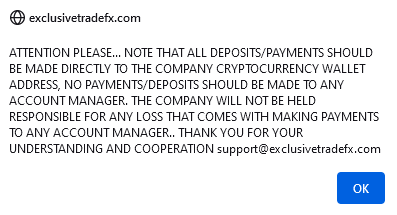 Legitimate brokers typically offer clients a wide choice of transparent payment methods, including bank transfer, credit/debit cards and established e-wallets such as PayPal, Skrill, Neteller or Sofort. If you're interested in legitimate brokers that accept digital currency payments alongside conventional methods, check out this list.
The lack of a publicly available Terms and Conditions or Client Agreement means that scammers may have set many traps such as hidden fees and impossible-to-meet  withdrawal terms.
HOW DOES THE SCAM WORKS
Scammers who promise easy money without any effort are nothing new, especially on the internet. But given the excitement around bitcoin and cryptocurrencies in recent years, malicious actors have run rampant more than ever, capitalizing not only on people's desire to solve their financial woes with a magic wand, but also ignorance and misunderstanding of how blockchain and complex financial instruments actually work.
If your curiosity is stirred by one of the many flashy websites promising easy riches, and you provide your contacts, you will soon be contacted by skillful and persuasive scammers who will convince you to start with a relatively small and "risk-free" investment. If you agree to this, you will be transferred to even more skilled at convincing scammers, who will persuade you to invest even more. Any money you give to such people is money you are unlikely to get back.
Any attempt to withdraw deposits or alleged profits will be hampered by numerous and significant fees, as well as harsh and often prohibitive conditions written into the terms and conditions – such as high trading volume requirements, unexpected "taxes", or withdrawal fees as high as 10% or even 20% of your funds.
WHAT TO DO WHEN SCAMMED
Recovering money you have given to fraudsters is difficult and often impossible. Fraudsters always want you to provide them with documents such as a copy of your ID and proof of address so that they can claim that it is a legitimate transaction, agreed voluntarily between both parties. If the transaction is made by credit or debit card, you can request a cashback and hope for the best, but transactions via wire transfer or cryptocurrencies are not refundable.  It is important not to trust online offers from people who offer to recover your money in exchange for an upfront payment, because this is also a well-known scam.