Beware! Goldenvest is an offshore broker! Your investment may be at risk.
RECOMMENDED FOREX BROKERS
Don't put all your eggs in one basket. Open trading accounts with at least two brokers.
Goldenvest is a pretty questionable offshore broker. The website does not provide some of the basic information and features one would expect from a financial services provider. We can't say for sure that it's a scam, but we can't say the opposite either – which is enough to not put our money on the line.
In this review, we will take a detailed look at why we are suspicious of Goldenvest and why it is advisable to invest through a more trustworthy forex broker.
GOLDENVEST REGULATION AND SAFETY OF FUNDS
The first thing to look for in a forex broker's website is which legal entity runs it, where it is based and what regulatory oversight it is subject to. Licensed companies are also required to provide a comprehensive set of legal documentation.
According to the information on Goldenvest's website, the offices of this broker are in Montenegro, but the company Goldenvest LLC is incorporated in the notorious offshore zone Saint Vincent and the Grenadines (SVG) .
Goldenvest tries to imply that this means it is a licensed and authorised broker. But this is not true.
While this country has a financial regulator, unlike other offshore areas, it does not regulate the activities of forex and CFD brokers. Тhe Financial Services Authority (FSA) of St. Vincent and the Grenadines has repeatedly issued warnings on this issue.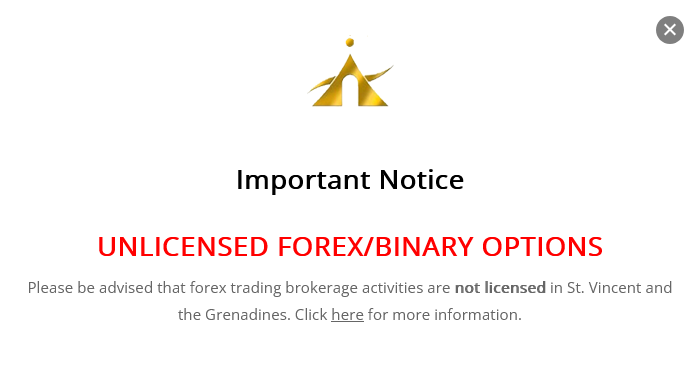 Some large brokerage firms set up offshore subsidiaries, including in SVG. The aim is to be able to compete successfully in unregulated emerging markets in Asia and Africa. But these companies want to maintain a good brand name, which is why they provide guarantees and transparency even for clients of their unregulated divisions. This cannot be said of Goldenvest, which is simply an unregulated company that may or may not offer the services it claims.
On the website we only find a Privacy Policy with generic content. There are no Terms and Conditions, Client Agreement or any other document that informs us exactly what terms we agree to as clients of Goldenvest.
If you have decided to invest in financial instruments, and especially if you are a novice trader, you should use the services of a licensed broker based in a jurisdiction with strong regulations.
Depending on your location, it is advisable to choose a company that is regulated by an institution such as Commodity Futures Trading Commission (CFTC) in theUS, Australian Securities and Exchanges Commission (ASIC), UK's Financial Conduct Authority (FCA) or some EU regulator like Cyprus Securities and Exchange Commission (CySEC).
Clients of these brokers receive protections such as negative balance protection and segregation of the client's funds from the broker's funds.  In the EU and the UK, brokers must also participate in guarantee schemes that cover a certain amount of the trader's investment if the broker becomes insolvent.
These guarantees amount to up to 20 000 EUR in the EU and 85 000 GBP in the UK. However, the likelihood of such a bankruptcy is low because regulators also have significant net capital requirements that companies must maintain – EUR 730 000 in UK and Cyprus, AUD 1000 000 in Australia and at least 20 million USD in the United States.
GOLDENVEST TRADING SOFTWARE
The Goldenvest website makes no mention of the most important tool for the forex trader – software. Credible brokers provide clear information on what technological options they offer to their clients.
Goldenvest claims that it offers easy Demo account registration, which is not true. Creating an account requires submitting an application, which must be approved by the website administrators. At the time of writing this review, we had not received such approval. Therefore, we were unable to determine whether the registration granted access to any trading software.
If you use the services of a licensed broker, you will get the opportunity to use established software with advanced features and versions for all types of devices and operating systems. The most widely used trading platforms in the industry are MetaTrader 4 (MT4) and MetaTrader 5 (MT5).
These platforms have established themselves as industry standard because they offer a wide range of features, including a variety of options for customization, multiple account usage, designing and implementing custom scripts for automated trading and backtesting trade strategies.
GOLDENVEST TRADING CONDITIONS
Goldenvest claims to offer five different types of trading accounts, but does not provide precise information on what the terms and conditions are. Nowhere do they specify basic parameters such as the price paid by the trader in the form of spread or commissions.
Leverage for all account types reaches 1:400. This is not a level that you see with regulated brokers. Trading with high leverage allows higher profits, but also increases the risk of sudden and excessive losses proportionally. All leading regulators limit leverage for retail traders.
In the EU, UK and Australia the maximum permitted level is 1:30 and in the US it is 1:50. This maximum level only applies to trading major currency pairs, with even more limited leverage for more volatile assets.
Regulated brokers offer higher leverage only to professional clients who must meet very high standards for capital and experience and forgo the guarantees enjoyed by retail traders.
If you don't qualify as a professional trader but are willing to take the risk of high-leverage trading, the most viable option is to use the services of an offshore affiliate of an established brand.
The minimum deposit required is 100 USD. For this amount you could open a trading account with a number of licensed and established brokers. Many of the leading brands in the industry offer Micro and Cent accounts to novice investors with even lower minimum deposits.
GOLDENVEST DEPOSIT/WITHDRAW METHODS AND FEES
Another important piece of information missing from the Goldenvest website is the payment methods available and the deposit and withdrawal fees.
Shady brokers and scammers typically use cryptocurrencies and other non-transparent payment methods that do not allow the defrauded to request a refund.
Legitimate brokers typically offer clients a wide choice of transparent payment methods, including bank transfer, credit/debit cards and established e-wallets such as Skrill, Neteller or Sofort.
Since Goldenvest does not provide proper legal documentation, it is unclear what traps the fraudsters may have set. Typically, fake brokers make withdrawing money impossible through huge fees and impossible-to-fulfil traded volume conditions.
HOW DOES THE SCAM WORKS
Scammers who promise easy money without any effort are nothing new, especially on the internet. But given the excitement around bitcoin and cryptocurrencies in recent years, malicious actors have run rampant more than ever, capitalizing not only on people's desire to solve their financial woes with a magic wand, but also ignorance and misunderstanding of how blockchain and complex financial instruments actually work.
If your curiosity is stirred by one of the many flashy websites promising easy riches, and you provide your contacts, you will soon be contacted by skillful and persuasive scammers who will convince you to start with a relatively small and "risk-free" investment. If you agree to this, you will be transferred to even more skilled at convincing scammers, who will persuade you to invest even more. Any money you give to such people is money you are unlikely to get back.
Any attempt to withdraw deposits or alleged profits will be hampered by numerous and significant fees, as well as harsh and often prohibitive conditions written into the terms and conditions – such as high trading volume requirements, unexpected "taxes", or withdrawal fees as high as 10% or even 20% of your funds.
WHAT TO DO WHEN SCAMMED
Recovering money you have given to fraudsters is difficult and often impossible. Fraudsters always want you to provide them with documents such as a copy of your ID and proof of address so that they can claim that it is a legitimate transaction, agreed voluntarily between both parties. If the transaction is made by credit or debit card, you can request a cashback and hope for the best, but transactions via wire transfer or cryptocurrencies are not refundable.  It is important not to trust online offers from people who offer to recover your money in exchange for an upfront payment, because this is also a well-known scam.