Beware! ReliableFxInvestment is an offshore broker! Your investment may be at risk.
RECOMMENDED FOREX BROKERS
Don't put all your eggs in one basket. Open trading accounts with at least two brokers.
ReliableFxInvestment follows the exact same template as dozens of others scam brokers. This is not a legitimate company at the least – in fact, their claims of being a safe, reliable investment choice are quite laughable. Depositing with this company could only result in one thing – losses due to scam. Avoid ReliableFxInvestment and similar shady enterprises!
ReliableFxInvestment REGULATION AND SAFETY OF FUNDS
ReliableFxInvestment claims that it is "a Maltese-directed investment services supplier that works under European and Maltese guidelines". The broker is supposedly also directed toward British, French, German, Italian, and Arabic markets. They are supposedly regulated by the Malta Financial Services Authority (MFSA) – a reliable EU regulator. When we checked the license number the broker provided, we got a match. However, the regulated company had a different domain, address, and e-mail.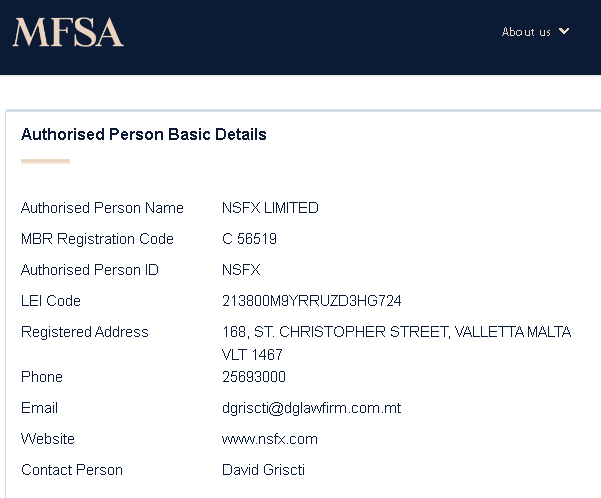 This means that the regulated company and ReliableFxInvestment are actually not the same enterprises. ReliableFxInvestment has blatantly lied about being regulated which is definitely not something a legitimate broker would ever do. Only a scammer would try to clone a regulated broker in this manner. Be extra careful – ReliableFxInvestment is not to be trusted.
The only way to trade safely is to enlist the services of a broker licensed by a strict financial regulator such as the FCA (the UK), CySEC (Cyprus), or ASIC (Australia). Brokers licensed by any local EU authority are also a good choice – according to the Markets in Financial Instruments Directive, every broker regulated in one EEA country can freely offer services in all such countries. Licensed brokers have to meet some sort of minimum capital requirement – at least €730 000 in the UK and the EU and A$ 1 million in Australia. This ensures the broker's financial stability. Client funds must be kept in segregated accounts the broker has limited access to – so you can be sure your broker is not using your money for their own daily business. European brokers must also participate in compensation schemes that ensure that if the broker becomes insolvent, clients could claim compensation of up to £85 000 in the UK and €20 000 in the EU.
ReliableFxInvestment TRADING SOFTWARE
ReliableFxInvestment promises access to MetaTrader 5 – an industry staple. However, we could not access the platform even after opening an account. The only thing we got access to was a simple TradingView chart tracking various markets. This is a far cry from a functional trading platform. In fact, the broker does not actually offer any sort of software that gives access to the financial markets. That is another reason why we would not recommend that you open an account with ReliableFxInvestment – you would not be given the chance to trade.
MT5 is the most popular platform in the industry due to its intuitive interface and the many possibilities it offers. Clients of the platform get access to useful features such as preprogrammed Expert Advisors that trade automatically in accordance with an algorithm but also the possibility to create your own trading bots and indicators. You could also purchase VPSs to keep your EAs operating even when your computer is off. Traders can get access to a huge community where they can exchange strategies with others, a market for trading apps, a built-in economic calendar, and much more. Definitely try out the platform with a legitimate broker that can also promise safety.
ReliableFxInvestment TRADING CONDITIONS
Another reason why ReliableFxInvestment could not be a legitimate EU broker is the fact that they offer extremely high leverage rates. Traders could supposedly trade with as much as 1:100 on forex majors. The problem is that EU regulations only allow retail traders to trade with leverage of up to 1:30. No legitimate broker could legally offer higher rates unless you qualify as a professional client and meet some additional conditions. Trading with higher leverage could potentially result in bigger profits but also comes with some risks. You could suffer much bigger and faster losses if you do not have the knowledge and experience to handle such high rates yet. That is why we recommend that you stick to leverage you are sure you can handle.
The minimum deposit ReliableFxInvestment asks for is not outrageously high but it is not that low either – $500. In order to open an account with some of the best brokers in the industry, you would only be asked to deposit as little as $5. That is another reason why depositing with scammers is not worth it. Trading with legitimate companies is much more affordable anyway.
ReliableFxInvestment DEPOSIT AND WITHDRAWAL METHODS AND FEES
ReliableFxInvestment promises its clients that they could choose one of the following deposit methods: Skrill, Western Union, MoneyGram, and Bitcoin. However, in order to deposit in any way other than Bitcoin, you had to contact a Live Chat agent or your account manager. Do not be surprised if you find out that the broker does not actually support some of the payment solutions it has mentioned.
As a rule, scam brokers prefer to receive payments in crypto. The reason for that is that such transactions are both anonymous and irreversible. This means that getting your money back or even tracing your payment would be impossible. Electronic payment solutions like Skrill, Western Union, and MoneyGram are way safer and less anonymous. That is exactly why the broker might claim that this deposit method is currently unavailable or that it is not available in your country or region.
Keep a watch out for all sorts of tricks scam brokers might try in order to prevent you to get access to your own deposits.
HOW DOES THE SCAM WORK?
In recent years, such scams have become more frequent than you can imagine. That is why it is very important to learn how they usually work and how to tell scam brokers apart from legitimate ones.
Always make sure to check the registers of regulatory bodies to make sure that a broker is licensed and reliable. Stay away from shady-looking websites that promise enormous profits in no time with zero effort. Do your own research – never blindly trust what a certain broker is telling you.
All scams start in a fairly similar way. You see an ad on the Internet promising immense fortune in no time – the only thing you have to do is open an account with a particular forex broker. You give in to curiosity and provide the scammers with your phone number and e-mail – at this point, you might still be reluctant to deposit. But once the scammers have your contact information, you will start getting calls and messages from them. They will ask you to deposit to unlock the full potential of their platforms and turn a profit. Keep in mind that such people are well-versed in the art of sweet-talking – they can promise amazing things and make effortless profits seem possible.
After you make an initial deposit, they would not leave you alone and keep asking for more money. You might even be happy to deposit since, at this point, it might seem like you are turning a profit. Scammers tend to manipulate platforms and results to make it look like you are doing great when you are actually just pouring money into their schemes.
The moment you try to withdraw, you will find out that something is not quite right. Reasons why withdrawals are impossible will show up – additional taxes, new clauses in the broker's Terms and Conditions, etc. At some point, you will figure out that you are being scammed – but it would already be too late. The scammers will stop answering your calls and e-mails – and they will simply disappear with all your deposits.
WHAT TO DO WHEN SCAMMED?
The first thing you should do is contact your bank and inform them about what has happened. Change your banking passwords to ensure that the scammers would have no way of stealing more money.
If you have installed remote access software – such as TeamViewer or AnyTesk – make sure to remove it. Some scam brokers will try to convince you that such software is necessary for a better trading experience – in order for them to help you with platform issues, or even with trading. Their true goal is to get access to your computer and banking systems – so they can start draining your accounts.
If you have deposited with a credit or debit card, make sure to contact your card issuer as soon as possible. Both Visa and MasterCard try to combat scams by allowing chargebacks within 540 days of the transactions. Retrieving your money might still be possible. If you have deposited in crypto, on the other hand, there would, unfortunately, be no way for you to get your money back.
Make sure to inform the authorities in your country about the broker and share your story – online and with acquaintances. This will prevent people from getting scammed in the same way.
One final important note – never trust anyone that calls themselves a "recovery agent". Such "agents" promise to track down the scammers and retrieve your money – for a fee, of course. This is nothing more but another type of scam directed at desperate people.