Beware! AITrader is an offshore broker! Your investment may be at risk.
RECOMMENDED FOREX BROKERS
Don't put all your eggs in one basket. Open trading accounts with at least two brokers.
AITrader tries to convince us that it is a regulated broker based in one of the global financial centres. Experience has taught us that we should not trust such assurances without verification. And fact checking leaves no doubt that AITrader is nothing more than an online scam. The purpose of this website is to scam inexperienced people out of their money. In this review, we will take a detailed look at how you could identify this and similar scams.
AITRADER REGULATION AND SAFETY OF FUNDS
The most important information about a financial services provider is its regulatory status. Licensed brokers provide detailed information about which company runs them, where it is based, which jurisdictions it is authorised in and which regulatory bodies oversee its activities.
On the homepage of the website, we see a claim that a company called AITrader (UK) Ltd, based in the UK, is behind this alleged forex broker.
Again there we see the claim that this company is authorised by an institution called the "Financial Security Commission of Europe", or FISEU. But no such institution exists.
In order to offer brokerage services in the United Kingdom, a company must be licensed by the  UK's Financial Conduct Authority (FCA). A check of the regulator's database reveals that AITrader  is not among the authorised brokers.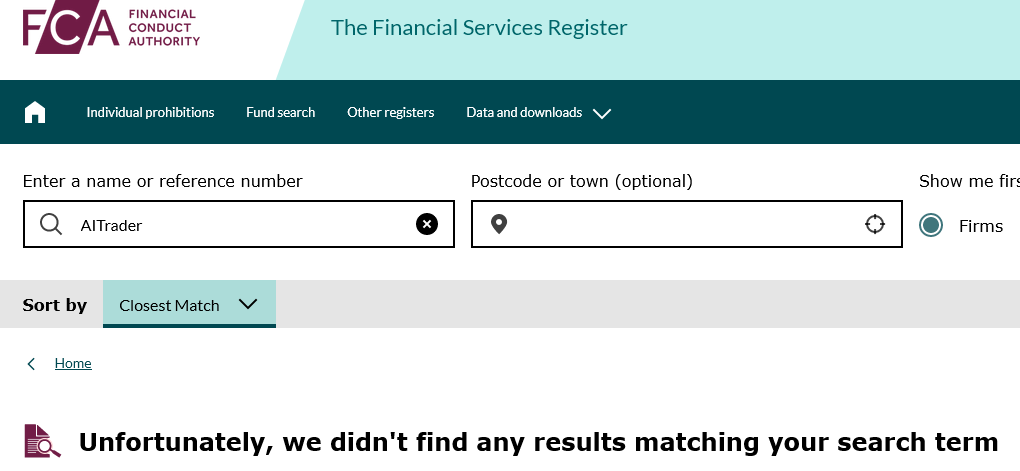 AITrader  does not provide access to basic legal documentation required by a licensed broker, such as Terms and Conditions and Client Agreement. On the website we only find a Privacy Policy. In this document, we see a different company name – AITrader Global Limited. No applicable jurisdiction is mentioned.
With AITrader, we don't know exactly who we're dealing with or what terms we're agreeing to when we sign up for an account. Referring to a fake regulator is more than enough proof that we are dealing with a scam.
If you have decided to invest in financial instruments you have a choice of much more trustworthy options. You can turn to one of the many companies that really work under the supervision of respected regulatory bodies like Cyprus Securities and Exchange Commission (CySEC) or FCA in the UK.
As their customer you will enjoy a number of guarantees including negative balance protection and guarantee for your funds if the broker goes bankrupt, which goes up to EUR 20,000 in EU and 85,000 GBP in the UK. Regulations in the UK and EU include some important measures designed to improve investor protection and promote market integrity and transparency, such as transaction reporting. Regulated brokers are also required to segregate their operational funds from the client's money.
AITRADER TRADING SOFTWARE
AITrader offers a basic web-based trading platform as we have seen employed by numerous other fake brokers. Here is what it looks like:
It should be noted that the presence of some kind of trading software is no guarantee that this is a genuine broker. Financial scammers often use rigged trading platforms to fool their victims that their money is actually being invested. However, this trading is entirely fictitious and the money goes directly into the scammers' pockets.
Legitimate brokers offer clients a wide selection of trading software, including desktop, mobile apps and web-based platforms. The most widely used platforms in the industry are MetaTrader 4 (MT4) and MetaTrader 5 (MT5).
These platforms have established themselves as industry standard because they offer a wide range of features, including a variety of options for customization, multiple account usage, designing and implementing custom scripts for automated trading and backtesting trade strategies.
AITRADER TRADING CONDITIONS
AITrader claims to offer four types of trading accounts, but their descriptions lack information about trading terms.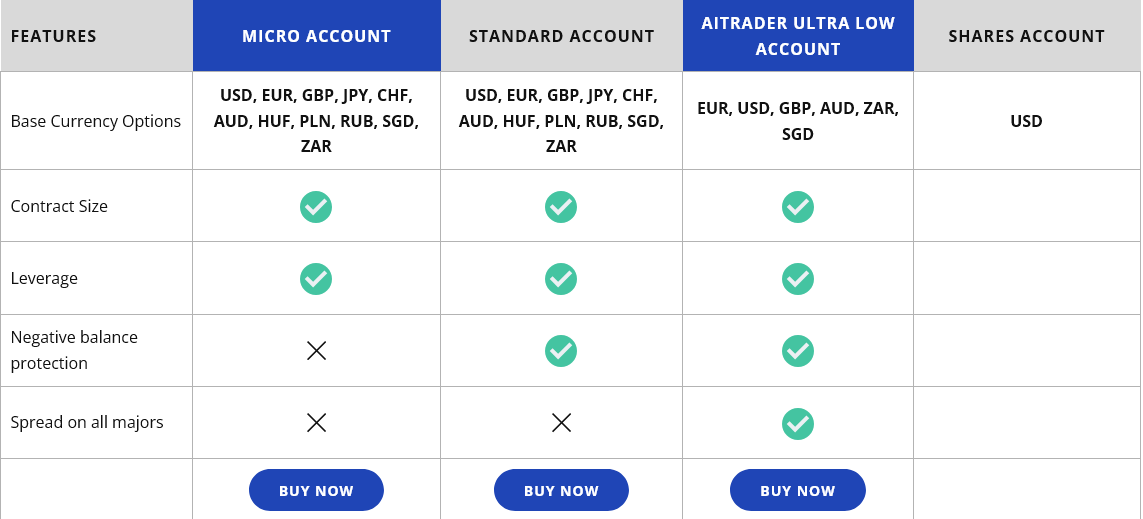 Legitimate forex brokers offer a variety of trading account types tailored to the needs of clients with different capital and investment intentions. These brokers also provide clear and detailed information on trading parameters – leverage, spread, commissions, order execution method, etc.
Elsewhere on the website it is stated that a very high leverage of 1:1000 is being offered. The trading platform has a set level of 1:200. This provides us with further evidence that AITrader  could not possibly be the licensed broker it claims to be.
Regulated brokers do not offer such levels to retail traders as trading with high leverage carries risks of sudden and excessive losses. A maximum leverage of 1:30 is allowed in the European Union and the United Kingdom and 1:50 in the United States.
Regulated brokers offer higher leverage only to professional clients who must meet very high standards for capital and experience and forgo the guarantees enjoyed by retail traders.
If you don't qualify as a professional trader but are willing to take the risk of high-leverage trading, the most viable option is to use the services of an offshore affiliate of an established brand.
The deposit menu requires a minimum amount of 250 USD. For a similar amount you could open an account with a licensed broker. In fact, most leading brands offer Micro and Cent accounts with an even lower minimum deposit.
AITRADER DEPOSIT/WITHDRAW METHODS AND FEES
AITrader 's deposit menu consists of links to purchase cryptocurrencies.
This is typical of financial scammers. Cryptocurrencies are their payment method of choice because on the one hand they allow the scammer a degree of anonymity, and on the other hand they do not allow the scammed to ask for a refund.
While there are some legitimate brokers that accept digital currencies like Bitcoin, they do so alongside other transparent payment methods such as credit/debit card, bank transfer or popular e-wallets like PayPal, Neteller or Skrill.
Since AITrader  does not provide proper legal documentation, it is unclear what traps the fraudsters may have set. Typically, fake brokers make withdrawing money impossible through huge fees and impossible-to-fulfil traded volume conditions.
HOW DOES THE SCAM WORKS
The online space is full of ads promising easy money. They sound too good to be true, because they are not – they are outright scams. Many of these fraudsters pose as brokers and take advantage of the general public's ignorance of the capital markets.
If you give your contact details to one of the flashy sites promising to make you rich, you will be contacted by experienced scammers who will start convincing you to "invest" in their scheme. Initially they will ask for a small amount, say USD 250 or USD 500. If you agree, they will begin to persuade you to give them larger sums.
However, your money will never be truly invested in the market, and you will not be able to receive either the supposed profits or the money from your deposit. Your attempts to withdraw your money will be blocked by deliberately confusing clauses in the terms and conditions.  Some of the most commonly used traps are extremely high minimum trading volume requirements or withdrawal fees equal to 10%, 20% or more of your funds.
WHAT TO DO WHEN SCAMMED
It is very important not to rush into trusting people on the internet who offer to magically refund your money for a fee. These are also scammers, and they may even be the same ones who scammed you in the first place.
If you have made the transfers using credit or debit card, you can claim a chargeback. Visa and MasterCard allow this to be done within 540 days. However, such a request may not be approved if you have given the fraudsters documents such as a copy of an ID and proof of address. This will allow them to claim that the transaction is legitimate and approved by both parties. Wire and cryptocurrency transfers unfortunately are not refundable.