Beware! Serengeti FX is an offshore broker! Your investment may be at risk.
RECOMMENDED FOREX BROKERS
Don't put all your eggs in one basket. Open trading accounts with at least two brokers.
Serengeti FX is a very tricky kind of broker. It can easily be confused with a reputable company – its website looks sleek and user-friendly and this firm seems to offer some attractive trading conditions that are alluring for the customer. However this is exactly why you should be on guard with Serengeti FX as its only aim is to lure new clients into investing and then stealing their money entirely. Despite its false claims to be fully regulated, this company barely holds any forex license. Not to mention that some parts of its trading conditions highly contradict the rules set in Australia, where this broker claims to be based. We have some reasons to believe that its alleged address is fake as well, so this firm starts to look more and more fishy. So if you are considering trading stocks, indices or forex with Serengeti FX, better read the following lines first and you may change your mind!
Regulation and safety of funds
So right after you land on this website you may be left with the impression that Serengeti FX is a truly reputable broker. This feeling however is highly deceptive and here are several reasons why.
First of all, Serengeti FX claims to be based in Australia and displays a registered address and some contact details. It also claims to be regulated by the local Australian Securities and Investments Commission (ASIC) and posts a part of a document extracted from the ASIC's registers. So far everything seems credible with some minor exceptions. After taking a closer look at this website we realized that something's wrong and this firm can't possibly be licensed by a strict authority like ASIC. First of all at the bottom of the page it's stated that this site is operated by Para Haraket Nigeria, which has nothing to do with Serengeti FX, let alone with ASIC. It seems quite strange and suspicious that a different firm is running this website, which on top of that is not regulated for sure.
What's more, some aspects in its trading conditions and offered services speak for themselves as well – they either contradict the rules set in Australia, or are quite shady. For example Serengeti FX claims to offer very high leverage of 1:1000 as well as starting bonuses – things that are banned in the country it says to be licensed. Its trading platform also seems fishy – it's offered by Para Haraket Nigeria and has nothing to do with Serengeti FX.
For this reason it is highly possible that this firm is just using other company's legal details just to seem legible. However the ugly truth is that Serengeti FX we are dealing with is yet another scam aiming to pocket your money. Don't trust such impostor websites and stay safe by choosing trustworthy brokers with legit forex licenses.
Licensed brokers in Australia are some of the most strictly regulated ones. They must meet a ton of requirements in order to get a license, like a minimum capital requirement of 1 000 000 AUD. They must also keep your deposits in segregated trusted accounts, safe from being stolen or misused.
Trading software
Serengeti FX claims to offer the well-known trading platform of MetaTrader 5, which can be downloaded or accessed directly through the web. However, here comes the main issue.
First of all, after we opened the WebTrader, it turned out that you can only see a demo version of MT5 that is not provided by any broker in particular. Take a look: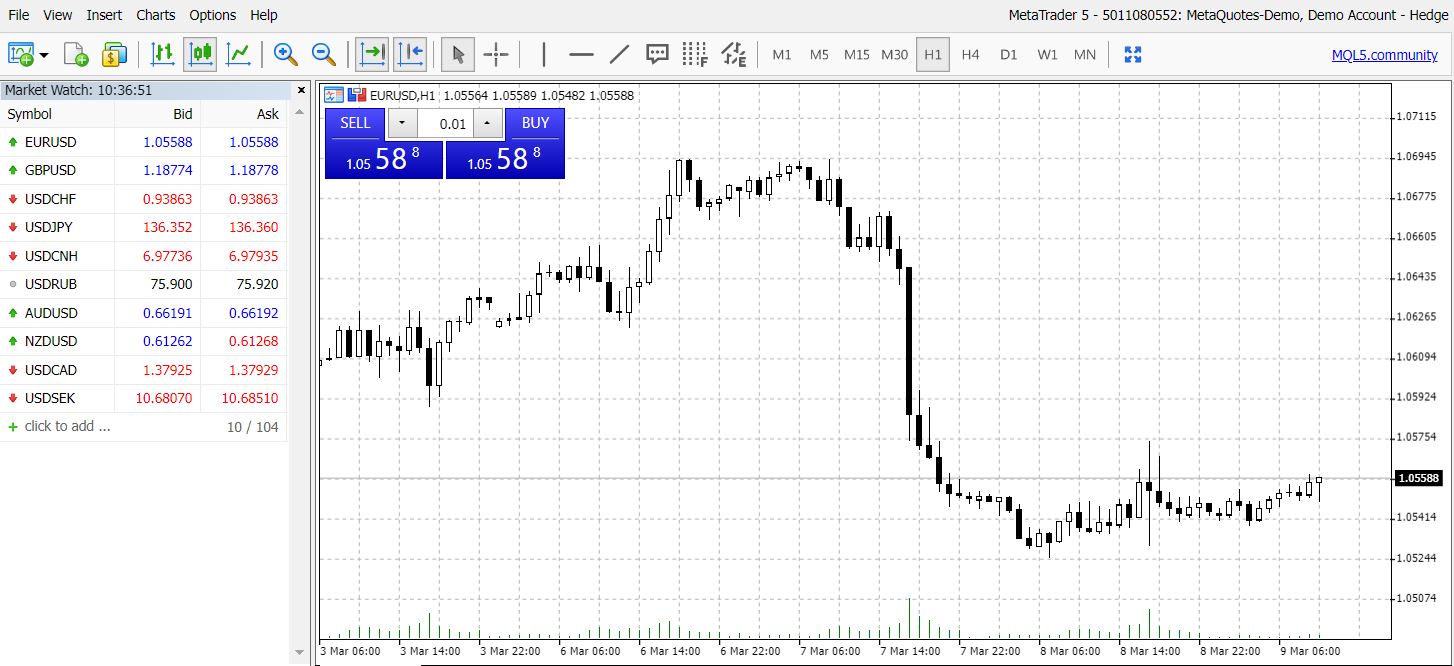 As for the download link displayed on the website, it was also quite curious. In fact we were able to download MT5 software but offered by another broker – Para Haraket Nigeria, as we mentioned above. On top of that the link seemed rather insecure so we didn't complete the installation.
Moreover, we couldn't register either – for some reason the website didn't work properly and our account was left incomplete.
As you see there are too many shady things regarding this broker. And no matter if you succeed in opening an account here or what software it offers, one is for sure – investing here comes with the inevitable risk of getting robbed. That's why we advise you to stick to truly legitimate brokers – they offer MetaTrader 4 or MetaTrader 5 anyway.
MT4 and MT5 have been preferred by most of the reputable brokers for a pretty good reason. You can benefit from a whole bunch of fantastic features that ease your trading experience. For example the so-called Expert Advisors can perform the trading for you – you just have to set certain conditions – the moment the trading bot finds them, it will start trading right away.
In fact MetaTrader 5 and MetaTrader 4 are very easy to use even for novices. You can download the app and start trading right off the bat, no matter where or when. You should know as well that this piece of software is really safe – all transactions are encrypted, as well as your IP address.
You can effortlessly install MT4 and MT5 on your smartphone, computer and tablet. Note however that the apps can't be downloaded on any device anymore, since Apple has removed them from its AppStore. So if you use an iPhone or iPad and you wish to install one of these platforms, unfortunately it won't be possible. Do not get down however because all of you who have already downloaded the software can go on using it (without any further updates however). You can still download MT4 and MT5 from Google Play Store.
Trading conditions
Serengeti FX claims to offer several account types and here's the chart that describes them: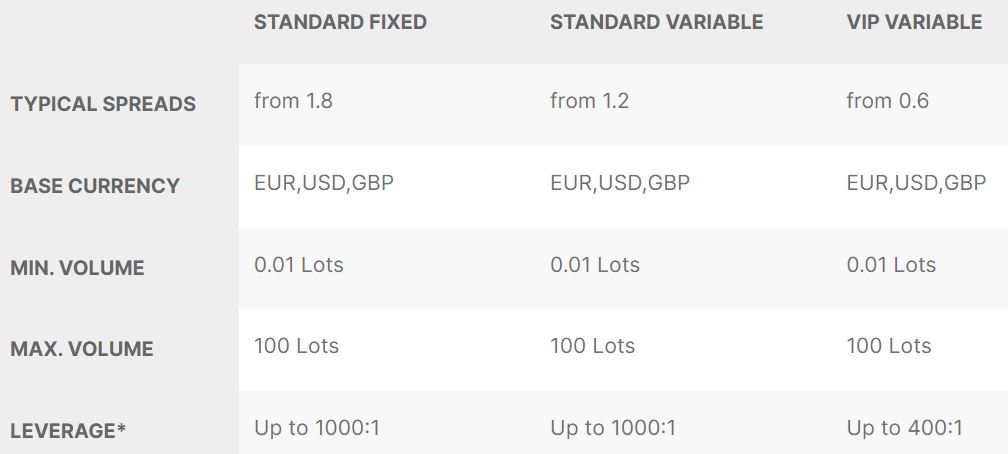 Here you can see a spread of 1.8 pips for the Standard Fixed account, which is leaning to the pricey side. Any spread of more than 2 pips is known to be more costly. That's why the amount that this broker offers is just unacceptable, especially given the fact that most reputable firms usually provide spreads around or below 1 pip that are much more attractive.
The leverage of 1:1000 that Serengeti FX offers is also not advantageous at least to say. As a matter of fact such an amount is just ridiculous – every experienced trader would tell you that the higher the leverage is, the greater the risk gets. That's why a lot of countries have made the decision to limit the leverage – 1:30 for Australia to be precise. You see, this is yet another proof that Serengeti FX just couldn't be licensed there. On the other hand, there is a way to legally trade with higher leverage – you can choose some of the offshore subsidiaries of reputable forex brokers here.
The minimum deposit is said to be 100 USD, which is a rather standard amount. To be precise, most legitimate brokers tend to ask for around 250 USD or even less – micro accounts require around 10 USD.
Deposit/Withdrawal methods and fees
On the website it's not specified what payment options this broker provides. This fact alone is a huge warning sign and doesn't speak well about this firm's credibility. And as we couldn't register we simply can't confirm what payment methods Serengeti FX really accepts.
Just be extra careful and don't deposit even a cent with Serengeti FX, especially if you come across any cryptocurrencies. Remember that these transactions are completely irreversible and anonymous, so there is a zero chance to retrieve your stolen funds.
How does the scam work
Remember that usually scammers want to make you invest with them no matter what it takes. This means that they might try to contact you via email or phone in case you provided them with this information. They'll try to convince you to deposit as soon as possible, advertising their platform as very advanced and their trading conditions as risk-free and advantageous. Don't believe them however as these fraudsters don't intend to trade your money at all – they just manipulate their software.
Very often scammers like to fake your trading results as well, just to lure you into investing more and more until you realize it's all a huge lie.
Before you find this out however you may face some more bad surprises. For instance it may turn out that you are obligated to pay a certain fee if you want to withdraw your funds – sometimes the fee can exceed 20%. Note that reputable brokers don't ask for a fee upon withdrawal request or even if they do, the amount is insignificant.
We don't advise you to deposit or pay fees with such offshore brokers, as you may find out that a withdrawal is impossible no matter what you try.
What to do when scammed
If you realize you have been a victim of financial scammers, don't trust people on the internet who suggest helping you restore your funds in exchange for a certain fee. It's very probable that they are also fraudsters, possibly the same who tricked you the previous time.
Still, you can try to retrieve your money if you have paid with credit or debit card – you can turn to the bank that issued your card and file for a chargeback in 540 days. In case you used PayPal or Skrill you can also open a dispute. Unfortunately crypto currency transactions are irreversible as we already stated.