Beware! PPIFX.CO is an offshore broker! Your investment may be at risk.
RECOMMENDED FOREX BROKERS
Don't put all your eggs in one basket. Open trading accounts with at least two brokers.
PPIFX.CO is a rather dubious website posing as a forex broker. The only thing we could find out about PPIFX.CO is that it is owned by an unregulated offshore company. At the time of writing this review, PPIFX.CO does not provide even basic functionality and information that one would expect from a genuine broker.
PPIFX.CO Regulation and safety of funds
If a financial services provider is legitimate, you will find on its website clear and detailed information about the company that owns and operates it, where it is based, and what licences it has. Genuine brokers also provide access to a comprehensive set of legal documentation. The availability of such information does not guarantee that it is not false or misleading. But the absence of these elements is very indicative that in all likelihood you are dealing with scammers.
PPIFX.CO provides a contact address in Saint Vincent and the Grenadines (SVG).
Links to Terms and Conditions and other legal documentation are empty. The only place we see the company name behind this website is the logo – PPI Ltd.
Such a company can indeed be found among those registered in the SVG.
But this does not provide any guarantees of customer protection. SVG is an offshore zone with no broker regulations in place. As soon as you open the website of the local Financial Services Authority you see a warning that the institution does not licence forex and other types of brokers and does not supervise the activities of International Business Companies engaged in such activities.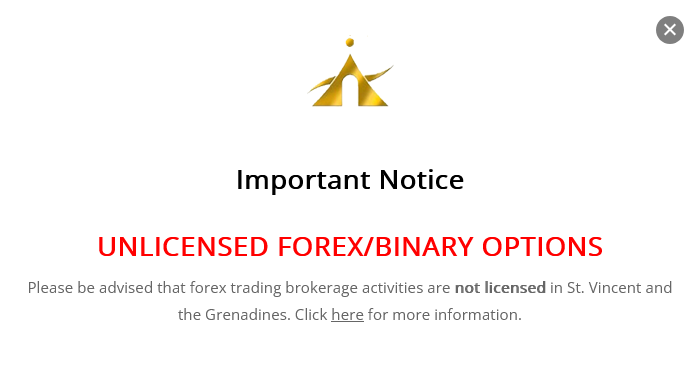 Some large brokerage firms set up offshore subsidiaries, including in SVG. The aim is to be able to compete successfully in unregulated emerging markets in Asia and Africa. But these companies want to maintain a good brand name, which is why they provide guarantees and transparency even for clients of their unregulated divisions. This cannot be said of PPI Ltd, which is simply an unregulated company that may or may not offer the services it claims.
At the time of writing this review, we were unable to register an account with PPIFX.CO because we did not receive a confirmation email issued for logging into the dashboard.
If you intend to invest in financial instruments, you should beware of the many fake brokers lurking online. Always check carefully whether the broker you choose really has the necessary licences. There are numerous benefits to working with a company that is truly authorised and supervised by a regulatory institution such as the UK's Financial Conduct Authority (FCA), Cyprus Securities and Exchange Commission (CySEC), Commodity Futures Trading Commission (CFTC) in US or Australian Securities and Exchanges Commission (ASIC). Clients of these brokers receive protections such as negative balance protection and segregation of the client's funds from the broker's funds.
In the EU and the UK, brokers must also participate in guarantee schemes that cover a certain amount of the trader's investment if the broker becomes insolvent. These guarantees amount to up to 20 000 EUR in the EU and 85 000 GBP in the UK. However, the likelihood of such a bankruptcy is low because regulators also have significant net capital requirements that companies must maintain – EUR 730 000 in UK and Cyprus, AUD 1000 000 in Australia and at least 20 million USD in the United States.
PPIFX.CO Trading software
| | | | | |
| --- | --- | --- | --- | --- |
| | Analytical tools | Auto trading | Custom indicators | Mobile apps |
| PPIFX.CO platform | ❌ | ❌ | ❌ | ❌ |
| MT4 | 30+ indicators | ✅ | ✅ | Android |
| MT5 | 50+ indicators | ✅ | ✅ | Android |
| cTrader | 40+ indicators | ✅ | ✅ | Android and iOS |
PPIFX.CO claims to offer the industry's most widely used trading platform, MetaTrade 5 (MT5). But the download links for the platform are not active. Due to the inability to log into an account, we do not know if PPIFX.CO has any trading software at all.It is advisable to contact one of the many legitimate brokers that offer MT5 or the still very popular MT4. These platforms have established themselves as leaders because they offer a wide range of features, including a wide variety of options for customization, multiple account usage, designing and implementing custom scripts for automated trading and backtesting trade strategies.
PPIFX.CO Trading instruments
| | | | | | |
| --- | --- | --- | --- | --- | --- |
| | Currency | Stocks | Indices | Crypto | Commodities |
| PPIFX.CO | ❌ | ❌ | ❌ | ❌ | ❌ |
| XM | Yes | Yes | Yes | Yes | Yes |
| FBS | Yes | Yes | Yes | Yes | Yes |
| FXTM | Yes | Yes | Yes | Yes | Yes |
When you visit the website of a legitimate broker you will find proposals for different types of trading accounts suitable for investors with different preferences, as well as detailed descriptions of trading parameters – minimum deposit, order execution method, tradable financial instruments, leverage, spread, swap, commissions, etc.
This information is completely missing from the PPIFX.CO website.
PPIFX.CO Spreads and cost of trading
| | | | | |
| --- | --- | --- | --- | --- |
| | PPIFX.CO | XM | FBS | FXTM |
| Spread EURUSD | N/A | 1.7 | 1 | 1.1 |
| Spread GBPUSD | N/A | 1.3 | 1.2 | 1.4 |
| Spread USDJPY | N/A | 1.3 | 1.2 | 1.4 |
If you trade through an established forex broker, you can expect to pay spreads and/or commissions of no more than 20 USD per lot traded. With PPIFX.CO, not only is the price of the trade unknown, but there is no certainty that a real trade is being offered.
PPIFX.CO Maximum leverage
Offshore brokers typically offer much higher and riskier leverage than regulated ones.
High leverage creates the opportunity for more significant profit, but correspondingly increases the risk of sudden and excessive losses. All leading regulators therefore restrict leverage for retail traders. A maximum leverage of 1:30 is allowed in the European Union and the United Kingdom and 1:50 in the United States.
Regulated brokers offer higher leverage only to professional clients who must meet very high standards for capital and experience and forgo the guarantees enjoyed by retail traders.
If you don't qualify as a professional trader but are willing to take the risk of high-leverage trading, the most viable option is to use the services of an offshore affiliate of an established brand.
PPIFX.CO Deposit and withdrawal methods
Legitimate brokers typically offer clients a wide choice of transparent payment methods, including bank transfer, credit/debit cards and established e-wallets such as PayPal, Skrill, Neteller or GiroPay.
PPIFX.CO does not provide any information on payment methods.
PPIFX.CO Minimum deposit
If you use the services of a leading brand, you can take advantage of the offers for Micro and Cent accounts with a very low minimum deposit, which are suitable for beginner investors.
PPIFX.CO Withdrawal requirements
Since PPIFX.CO does not provide proper legal documentation, it is unclear what traps the fraudsters may have set. Typically, fake brokers make withdrawing money impossible through huge fees and impossible-to-fulfil traded volume conditions.