Beware! Trading WS is an offshore broker! Your investment may be at risk.
RECOMMENDED FOREX BROKERS
Don't put all your eggs in one basket. Open trading accounts with at least two brokers.
Trading WS is an impostor broker offering its services outside the law. And even though it claims to be "the right choice" for you, don't fall into this trap or it may be almost impossible to get out. This website is an impersonation of a real scam – there's no registered address, nor company name and any data about its trading conditions is also missing. In short, this broker is absolutely anonymous and insidious.
On top of that Trading WS has been exposed by the UK regulator as an unauthorized firm that shouldn't be trusted. This fact alone should be enough to turn down any potential investor from trading here. Still, if you want to learn more about this broker's flaws and what to look out for, keep reading the full review.
Trading WS Regulation and safety of funds
Trading WS claims its registered address to be in England and Wales, but no concrete address is specified. Furthermore, there's no company name to be found on this site, so we don't know who exactly runs it. In fact there are no contact details on the whole website either – no specific location, phone number or at least email. For this reason Trading WS turns out to be completely anonymous, as we don't know anything about its true identity or the location it operates from.
Trading WS also claims that "the company's activities are controlled by the world's leading regulators", however it doesn't specify who exactly they are. At the bottom of the homepage, the broker states that it's licensed by the UK's Financial Conduct Authority (FCA) and posts a registered number, but no incense number is to be found. As we searched the registers of FCA, it turned out that there's an official warning set against Trading WS, which states that this firm is unauthorized and risky. See for yourself:

As you see, this firm is not regulated, as it falsely claims and should be avoided by all means!
Trading WS also claims that your money's held in separate accounts and that you can benefit from a negative balance protection. However, we don't trust it even an inch, as it has proven itself as a total sham.
On top of that this broker also claims to participate in compensation schemes and that "each deposit is protected by the UK Financial Institution Compensation Program". The issue here is that compensations in the UK are issued by the Financial Services Compensation Scheme (FSCS) and obviously Trading WS can't provide such client protection.
Trading WS Trading software
| | | | | |
| --- | --- | --- | --- | --- |
| | Analytical tools | Auto trading | Custom indicators | Mobile apps |
| Trading WS platform | ❌ | ❌ | ❌ | ❌ |
| MT4 | 30+ indicators | ✅ | ✅ | Android |
| MT5 | 50+ indicators | ✅ | ✅ | Android |
| cTrader | 40+ indicators | ✅ | ✅ | Android and iOS |
Trading WS describes its trading software as a reliable platform with the most advanced features, modern analytical tools, and advanced graphics.
Once we registered there was the platform displayed right away. However it didn't seem to function at all – there was a schedule displayed which explained the working hours and said that "the market is closed". Take a look: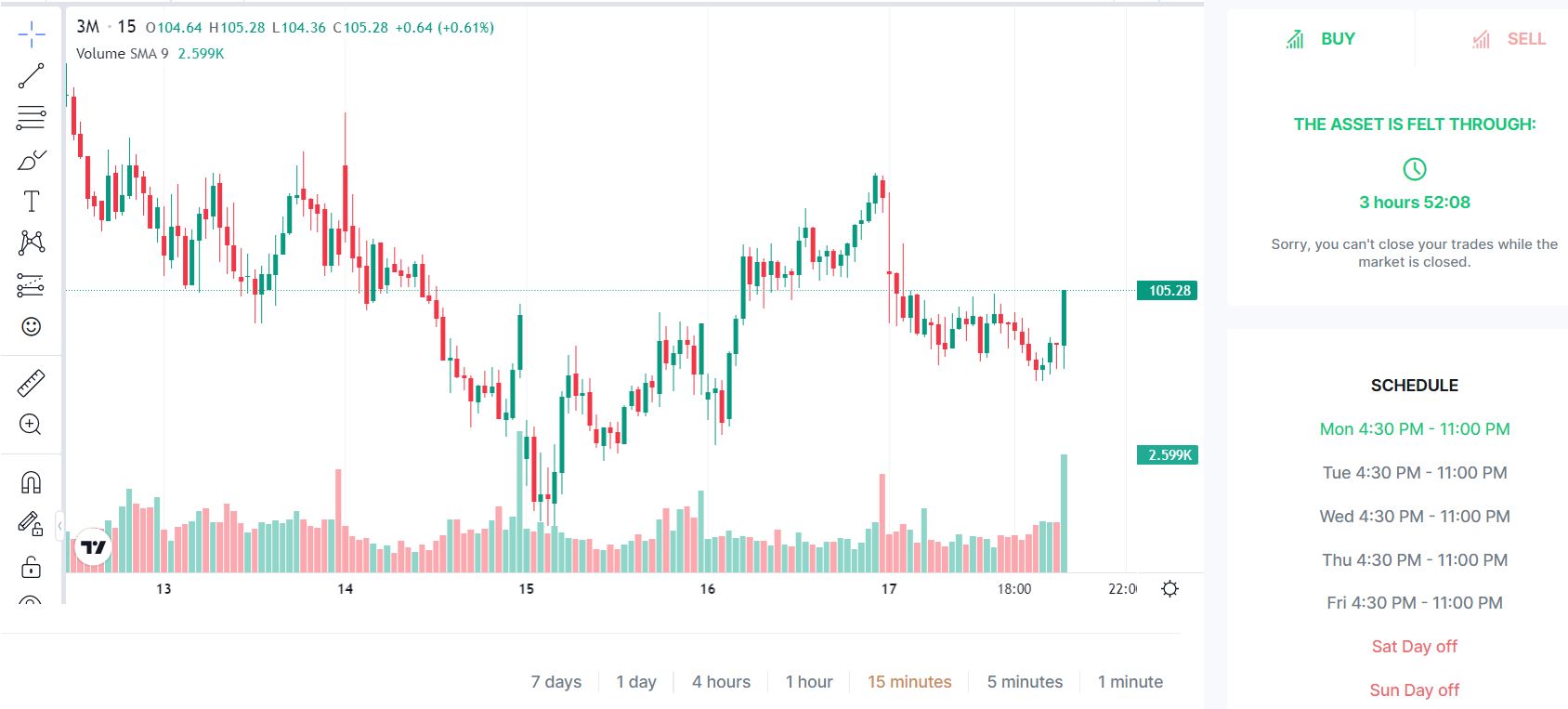 This is highly suspicious and uncommon – usually the forex market works 24 hours a day except for the weekends. We have no idea what's happening with this software, but the only reasonable explanation is that this broker is running a scam.
Stay away from it for the safety of your funds! Instead, look for legitimate firms who provide MetaTrader 4 or MetaTrader 5, as they are the best platforms so far.
Trading WS Trading instruments
| | | | | | |
| --- | --- | --- | --- | --- | --- |
| | Currency | Stocks | Indices | Crypto | Commodities |
| Trading WS | ✅ | ✅ | ✅ | ❌ | ✅ |
| XM | Yes | Yes | Yes | Yes | Yes |
| FBS | Yes | Yes | Yes | Yes | Yes |
| FXTM | Yes | Yes | Yes | Yes | Yes |
Trading WS claims to offer "oil, gold, Apple, Tesla and over 5,600 popular financial instruments". On its website you can also spot some brief data about investing in stocks and CFDs. Nothing more is mentioned though. This broker is definitely not a good choice if you want to put your money on the line, not to mention that most legitimate firms offer a really wide range of assets like crypto, shares, forex pairs and more.
Trading WS Spreads and cost of trading
| | | | | |
| --- | --- | --- | --- | --- |
| | Trading WS | XM | FBS | FXTM |
| Spread EURUSD | ❌ | 1.7 | 1 | 1.1 |
| Spread GBPUSD | ❌ | 1.3 | 1.2 | 1.4 |
| Spread USDJPY | ❌ | 1.3 | 1.2 | 1.4 |
On the whole website there is no information about this broker's trading conditions which is quite worrisome to be honest. Trading WS doesn't specify what account types it offers, nor what spreads you can benefit from. And as we couldn't see any data displayed on its trading software, we have no idea what to expect from it. Just note that spreads higher than 2 pips are definitely going to be more costly so better stay away from such conditions. As a matter of fact, regulated brokers usually offer tight spreads around or below 1 pip that are truly advantageous for you, so better stick to them.
Trading WS Maximum leverage
As we mentioned above, there is no data about the trading conditions including the leverage this broker provides. This could be quite tricky as you never know what volumes you can stumble across – the higher the leverage the greater the risk of failure gets, so keep this in mind. Moreover, there's a leverage restriction of 1:30 in the UK, where this broker claims to be based. So if you come across higher amounts, beware! It's a scam!
Trading WS Deposit and withdrawal methods
| | | | |
| --- | --- | --- | --- |
| | Deposit time | Withdrawal time | Fee |
| Crypto | Not specified | Not specified | Not specified |
As everything else on this bogus website, the payment methods are not specified either. After we registered it became clear why – the only possible payment is via crypto coins – with Bitcoin to be precise. Take a look:
It can't get any worse, don't you think? Just a friendly reminder – crypto transactions are 100% irreversible and anonymous at the same time, that's why scammers insist on using them. As you see, investing here starts to seem more and more unthinkable.
Trading WS Minimum deposit
| | | | | |
| --- | --- | --- | --- | --- |
| | Trading WS | XM | FBS | FXTM |
| Minimum deposit | No information | $5 | $10 | $5 |
The minimum deposit that Trading WS requires is also not specified. Usually what most of the reputable firms ask for is around 250 USD for a regular account. Micro accounts on the other hand require around 10 USD.
Trading WS Withdrawal requirements
| | | | |
| --- | --- | --- | --- |
| | Trading volume | Fee/Tax on withdrawal | Minimum withdrawal |
| Trading WS | No information | No information | No information |
| UK regulated brokers | No | No | No |
| EU regulated brokers | No | No | No |
| AU regulated brokers | No | No | No |
| US regulated brokers | No | No | No |
First, we would like to mention that there are no legal documents like Terms and Conditions or a Deposit/Withdrawal Policy anywhere on the website. This fact alone is worrisome enough, but let's take a look at what this broker has to say about its commissions and fees.
Trading WS claims that "most of the services provided on the site are free" as well as that "most of our commissions are charged in the form of spreads". So apparently, there are some commissions that are not exactly specified. The broker however adds that "before we collect it, we will definitely notify customers about it". This data seems rather unclear and dubious, but it was to be expected from a shady firm like this one.
Apart from that, Trading WS also claims that there are no deposit/withdrawal fees, but we take this statement with a grain of salt as well. It's quite possible that there are some fees upon every withdrawal request – scammers usually charge their clients with around 20% fee! Be careful and avoid this broker by all means!