Beware! Lendowl is an offshore broker! Your investment may be at risk.
RECOMMENDED FOREX BROKERS
Don't put all your eggs in one basket. Open trading accounts with at least two brokers.
Lendowl presents itself as a forex broker that will help us upgrade our trading. But our attempt to confirm these claims remained unsuccessful. Lendowl can actually only be useful in one way – as a blatant example of an online scam posing as an established financial services provider. Let's take a detailed look at how you can identify this type of fraud and how to find a trustworthy broker that will suit you.
Lendowl Regulation and safety of funds
The most important information about a financial services provider is its regulatory status. Licensed brokers provide detailed information about which company runs them, where it is based, which jurisdictions it is authorised in and which regulatory bodies oversee its activities.
Lendowl is a completely anonymous website, which in itself is a big enough red flag that we're dealing with a scam. Nowhere is the name of the owning company listed, nor is a contact address provided. There is no Client Agreement, Terms and Conditions or other documentation required by law. If you don't know exactly who you are dealing with and what the terms of the deal are, it would be a glaring mistake to put your money on the line.
One of the languages in which the Lendowl website is available is German, which has attracted the attention of the German financial regulator BaFin. The institution warns investors that this anonymous website is not authorised.
Under no circumstances should you trust your money to such anonymous websites full of false information. Instead, you can turn to one of the many companies that really work under the supervision of respected regulatory bodies like Cyprus Securities and Exchange Commission (CySEC) or Financial Conduct Authority (FCA) in the UK.
As their customer you will enjoy a number of guarantees including negative balance protection and guarantee for your funds if the broker goes bankrupt, which goes up to EUR 20,000 in EU and 85,000 GBP in the UK. Regulations in the UK and EU include some important measures designed to improve investor protection and promote market integrity and transparency, such as transaction reporting. Regulated brokers are also required to segregate their operational funds from the client's money.
Lendowl Trading software
| | | | | |
| --- | --- | --- | --- | --- |
| | Analytical tools | Auto trading | Custom indicators | Mobile apps |
| Lendowl platform | ✅ | ❌ | ✅ | ❌ |
| MT4 | 30+ indicators | ✅ | ✅ | Android and iOS |
| MT5 | 50+ indicators | ✅ | ✅ | Android and iOS |
| cTrader | 40+ indicators | ✅ | ✅ | Android and iOS |
Lendowl uses a standard web-based trading platform. Here is how it looks like: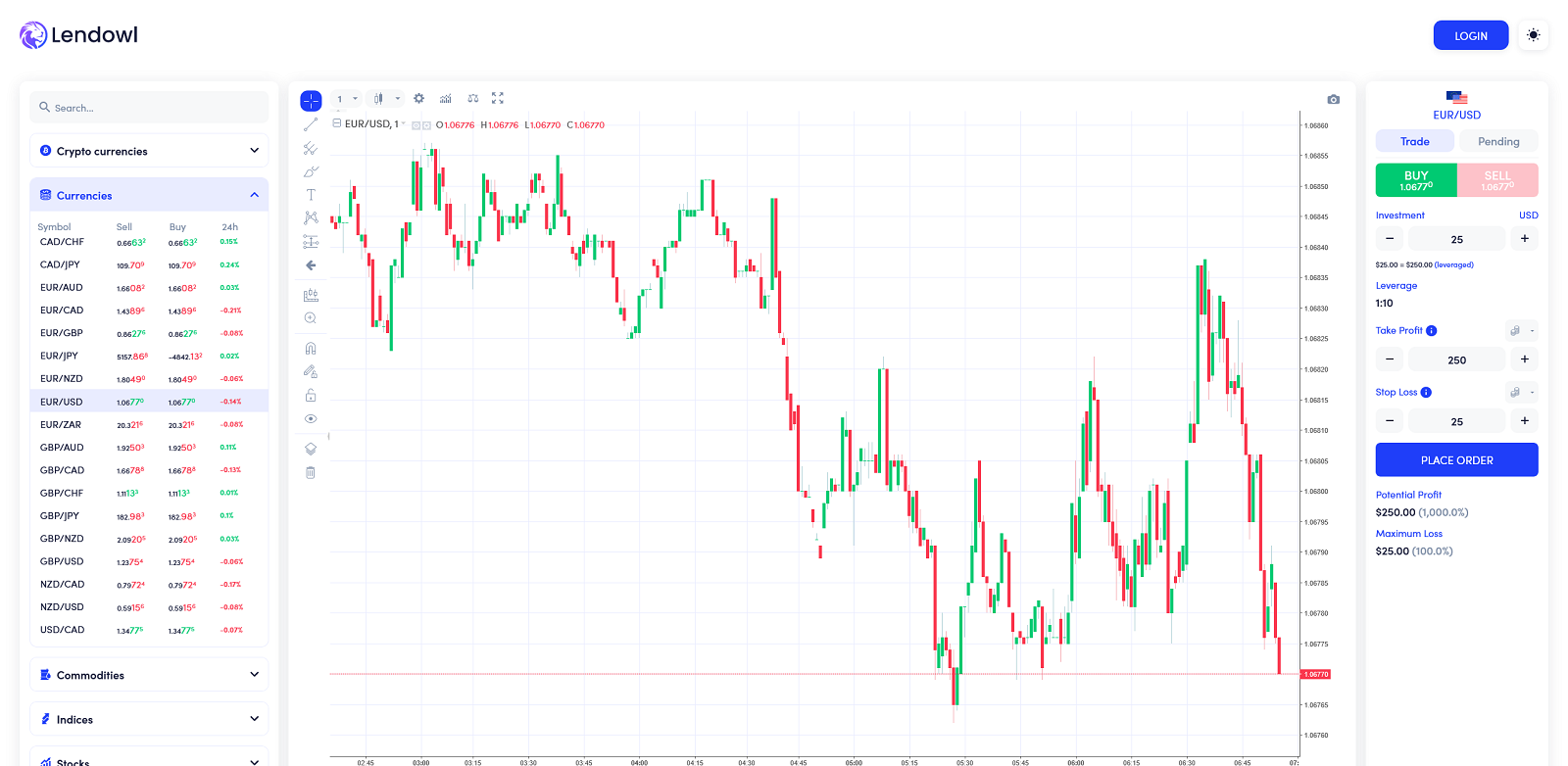 We've seen the exact same platform being used by multiple fake brokers we've encountered. Scammers are using rigged trading software to fool their victims into believing that their money is really being invested and even turning a profit.
While the platform has the basic features for placing orders, customising charts and application of technical indicators, it lacks the more advanced functionality found in the most widely used trading platforms in the industry, MetaTrader 4 (MT4) and MetaTrader 5 (MT5).
These platforms have established themselves as industry standard because they offer a wide range of features, including a variety of options for customization, multiple account usage, designing and implementing custom scripts for automated trading and backtesting trade strategies.
Lendowl Trading instruments
| | | | | | |
| --- | --- | --- | --- | --- | --- |
| | Currency | Stocks | Indices | Crypto | Commodities |
| Lendowl | ✅ | ✅ | ✅ | ✅ | ✅ |
| XM | Yes | Yes | Yes | Yes | Yes |
| FBS | Yes | Yes | Yes | Yes | Yes |
| FXTM | Yes | Yes | Yes | Yes | Yes |
In the trading platform we see forex, commodities, stocks and cryptocurrencies. But as stated, we have no reason to believe that the trading offered by this shady website is real.
Lendowl Spreads and cost of trading
| | | | | |
| --- | --- | --- | --- | --- |
| | Lendowl | XM | FBS | FXTM |
| Spread EURUSD | 1.5 | 1.7 | 1 | 1.1 |
| Spread GBPUSD | 1.5 | 1.3 | 1.2 | 1.4 |
| Spread USDJPY | 1.5 | 1.3 | 1.2 | 1.4 |
Lendowl promises a typical industry spread of 1.5 pips. But the website does not give detailed information on trading conditions, including the existence of additional commissions.
Legitimate forex brokers provide clear and detailed information on trading parameters – leverage, spread, commissions, order execution method, etc.
Lendowl Maximum leverage
Lendowl offers leverage up to 1:500. This is not a level that you see with regulated brokers. Trading with high leverage allows higher profits, but also increases the risk of sudden and excessive losses proportionally. All leading regulators limit leverage for retail traders.
Lendowl also advertises bonuses, another practice banned by most financial regulators. Scammers often use promises of supposedly generous bonuses to tie their potential victims to extortionate terms. Lendowl  does not provide clear information about the conditions attached to bonuses.
If you are nevertheless willing to take the risk of high-leverage trading and want to take advantage of bonuses, promotions and prize games, the best option is to use the services of offshore brokers operating under an established brand.
Lendowl Deposit and withdrawal methods
At the time of writing this review, there are no active options on the Lendowl deposit menu.
Experience has shown that fake brokers routinely advertise conventional payment methods, but actually steer their potential victims towards cryptocurrency transactions. This not only guarantees them anonymity, but also deprives the defrauded of the option to request a refund or chargeback.
Legitimate brokers typically offer clients a wide choice of transparent payment methods, including bank transfer, credit/debit cards and established e-wallets such as PayPal, Skrill or Neteller.
Lendowl Minimum deposit
| | | | | |
| --- | --- | --- | --- | --- |
| | Lendowl | XM | FBS | FXTM |
| Minimum deposit | $10,000 | $5 | $10 | $5 |
The website states a ridiculously high minimum deposit of 10,000 USD. You should know that for as little as 10 USD you could open a starter trading account with some of the leading brands in the industry.
Lendowl Withdrawal requirements
The lack of a publicly available Terms and Conditions or Client Agreement means that scammers may have set many traps such as hidden fees and impossible-to-meet  withdrawal terms.