Beware! FPMGreece is an offshore broker! Your investment may be at risk.
RECOMMENDED FOREX BROKERS
Don't put all your eggs in one basket. Open trading accounts with at least two brokers.
FPMGreece is a prime example of why you should always do careful fact checking before putting your money on the line. This website improperly represents itself as representing a leading brand in the industry. In this review, we will show you how to determine whether a broker is truly legitimate or not.
FPMGreece Regulation and safety of funds
If a financial services provider is legitimate, you will find on its website clear and detailed information about the company that owns and operates it, where it is based, and what licences it has. Genuine brokers also provide access to a comprehensive set of legal documentation. The availability of such information does not guarantee that it is not false or misleading. But the absence of these elements is very indicative that in all likelihood you are dealing with scammers.
FPMGreece does not provide access to legal documentation and the only means of contact on the website is email.
In the footer of the website we see information about companies and regulatory licences, which is embedded in the form of an image. This method is used to prevent the information from being detected by search engines.
Fact checking reveals that the FPMGreece website has nothing to do with the companies and regulators mentioned. These are the legal details of one of the leading brokers in the industry, FP Markets. This broker operates through domains different from that of FPMGreece.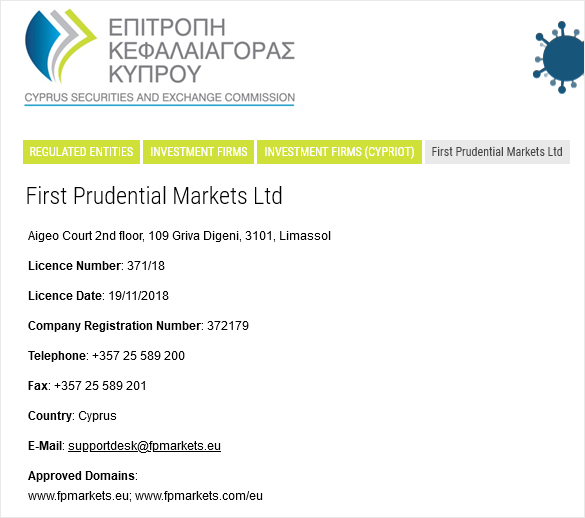 The Greek financial regulator has issued a warning to investors that FPMGreece does not represent an authorised legal entity:
When choosing a broker through which to invest in the financial markets, you should not only make sure that all the information required by law is available, but also that this information is true. Always check that the company is indeed on the records of the specified regulator and that the domain used is among those officially approved for the particular broker.
There are many benefits for retail traders to trade through a licensed broker in the EU. These brokers must comply with all the requirements of the European Securities and Markets Authority (ЕSМА). They must maintain a minimum net capital of at least EUR 730 000, which guarantees that the company is financially stable and has a serious long-term approach. When clients deposit money in their trading accounts, they are kept segregated from the broker's operating funds in separate bank accounts. Thus the clients' money remains shielded in case of mishaps like a broker's bankruptcy.
All brokers licensed in Cyprus and other EU countries are members of the Investor Compensation Fund, which may cover a maximum of EUR 20,000 per person in the event of broker insolvency. EU forex brokers are required to report their clients' transactions on a regular basis. This requirement is designed to improve investor protection and promote market integrity and transparency.
FPMGreece Trading software
| | | | | |
| --- | --- | --- | --- | --- |
| | Analytical tools | Auto trading | Custom indicators | Mobile apps |
| FPMGreece platform | ✅ | ❌ | ✅ | ❌ |
| MT4 | 30+ indicators | ✅ | ✅ | Android and iOS |
| MT5 | 50+ indicators | ✅ | ✅ | Android and iOS |
| cTrader | 40+ indicators | ✅ | ✅ | Android and iOS |
FPMGreece promises several advanced trading platforms, including MetaTrader 4 (MT4) and IRESS. But this is information copied from the real broker's website. After registering an account we only get access to rudimentary web-based software. Here is how it looks like:
It should be noted that the presence of a trading platform does not make this website any more legitimate and does not guarantee that this alleged broker offers real trading. Many scammers use rigged trading software to fool their victims that their money is being invested.
There are more than enough licensed brokers offering clients the MT4 experience and/or the newer version of the software MT5. These platforms have established themselves as industry standard because they offer a wide range of features, including a variety of options for customization, multiple account usage, designing and implementing custom scripts for automated trading and backtesting trade strategies.
FPMGreece Trading instruments
| | | | | | |
| --- | --- | --- | --- | --- | --- |
| | Currency | Stocks | Indices | Crypto | Commodities |
| FPMGreece | ✅ | ✅ | ✅ | ✅ | ✅ |
| XM | Yes | Yes | Yes | Yes | Yes |
| FBS | Yes | Yes | Yes | Yes | Yes |
| FXTM | Yes | Yes | Yes | Yes | Yes |
FPMGreece advertises trading in all major asset classes, but you can be pretty sure that the trading offered by this fraudulent website is fictitious
FPMGreece Spreads and cost of trading
| | | | | |
| --- | --- | --- | --- | --- |
| | FPMGreece | XM | FBS | FXTM |
| Spread EURUSD | 0.7 | 0.6 | 1 | 1.1 |
| Spread GBPUSD | 0.7 | 1.3 | 1.2 | 1.4 |
| Spread USDJPY | 0.7 | 1.3 | 1.2 | 1.4 |
In the trading platform we see a low spread of 0.7 pips, but this means nothing. FPMGreece does not indicate whether it charges additional trading commissions and does not provide information on the basic trading parameters.
Genuine forex brokers provide detailed information about the trading conditions. Legitimate companies also offer different account types to suit clients with different experience, capital and investment intentions.
FPMGreece Maximum leverage
A leverage of 1:100 is set in the trading platform. This is also proof that FPMGreece may not be the regulated broker it claims to be. Regulated brokers do not offer such levels to retail traders as trading with high leverage carries risks of sudden and excessive losses.
The European Securities and Markets Authority (ESMA) and accordingly all EU regulators limit leverage to 1:30 for major currency pairs, 1:20 for non-major pairs, gold and major indices, 1:10 for other commodities and non-major indices, and 1:2 for cryptocurrencies.
FPMGreece Deposit and withdrawal methods
At the time of writing this review, the FPMGreece deposit menu was not functional. Experience has shown that fake brokers routinely advertise conventional payment methods, but actually steer their potential victims towards cryptocurrency transactions. This not only guarantees them anonymity, but also deprives the defrauded of the option to request a refund or chargeback.
Legitimate brokers typically offer clients a wide choice of transparent payment methods, including bank transfer, credit/debit cards and established e-wallets such as PayPal, Skrill or Neteller.
FPMGreece Minimum deposit
The leading brands in the industry offer beginner traders starter accounts with a very low minimum deposit. You have no good reason to take chances with shady brokers like FPMGreece.
FPMGreece Withdrawal requirements
Since FPMGreece does not provide proper legal documentation, it is unclear what traps the fraudsters may have set. Typically, fake brokers make withdrawing money impossible through huge fees and impossible-to-fulfil traded volume conditions.