Beware! AAATradecn is an offshore broker! Your investment may be at risk.
RECOMMENDED FOREX BROKERS
Don't put all your eggs in one basket. Open trading accounts with at least two brokers.
AAATradecn's low-quality and disorganised website makes it very hard to believe that it is really the global market leader in forex trading that it portrays itself to be.
Fact checking shows that this is at best an unregulated offshore broker offering unfavourable terms. But it is much more likely to be another online scam disguised as an investment intermediary. In this review, we'll show you why you should never trust your money to this shady website.
AAATradecn Regulation and safety of funds
The most important information about a financial services provider is its regulatory status. Licensed brokers provide detailed information about which company runs them, where it is based, which jurisdictions it is authorised in and which regulatory bodies oversee its activities.
There is no identifying information on the AAATradecn homepage – no company name, office address or regulatory licence details are given.
The terms and conditions state that the broker is operated by a company called Maximus Global Markets LTD, which is based in Saint Vincent and the Grenadines (SVG). The same company is listed as the owner of another shady broker we have reviewed, ImperialCFD.
A company with such a name cannot be found among those registered with SVG. But even if the owner of AAATradecn is based there, this does not provide any guarantees for the clients' funds. SVG is an offshore zone with no broker regulations in place. As soon as you open the website of the local Financial Services Authority you see a warning that the institution does not licence forex and other types of brokers and does not supervise the activities of International Business Companies engaged in such activities.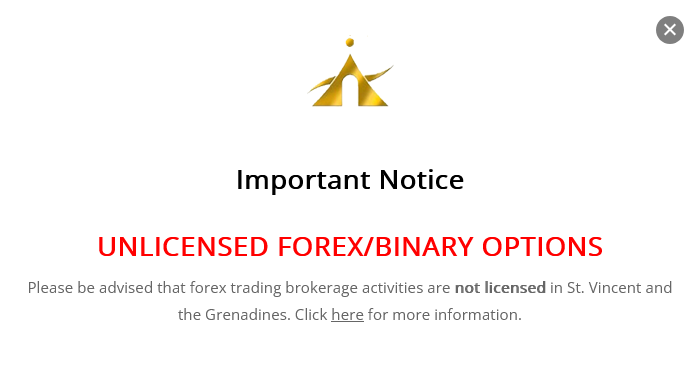 The AAATradecn logo uses the AAATrade brand, which belongs to a legitimate company licensed in Cyprus. But it uses a different domain from that of AAATradecn.
The Cypriot financial authorities have noticed this and have blacklisted AAATradecn.
If you have decided to invest in financial instruments, and especially if you are a novice trader, you should use the services of a licensed broker based in a jurisdiction with strong regulations.
Instead, it is advisable to approach one of the licensed brokers that are truly regulated by institutions such as Cyprus Securities and Exchange Commission (CySEC).
There are many advantages to working with such brokers because they must comply with all the requirements of the European Securities and Markets Authority (ЕSМА). They must maintain a minimum net capital of at least EUR 730 000, which guarantees that the company is financially stable and has a serious long-term approach. When clients deposit money in their trading accounts, they are kept segregated from the broker's operating funds in separate bank accounts. Thus the clients' money remains shielded in case of mishaps like a broker's bankruptcy.
All brokers licensed in Cyprus and other EU countries are members of the Investor Compensation Fund, which may cover a maximum of EUR 20,000 per person in the event of broker insolvency. EU forex brokers are required to report their clients' transactions on a regular basis. This requirement is designed to improve investor protection and promote market integrity and transparency.
AAATradecn Trading software
| | | | | |
| --- | --- | --- | --- | --- |
| | Analytical tools | Auto trading | Custom indicators | Mobile apps |
| AAATradecn | ❌ | ❌ | ❌ | ❌ |
| MT4 | 30+ indicators | ✅ | ✅ | Android and iOS |
| MT5 | 50+ indicators | ✅ | ✅ | Android and iOS |
| cTrader | 40+ indicators | ✅ | ✅ | Android and iOS |
On the website we see images of an unnamed trading platform, but no clarification of what software is being used. AAATradecn does not allow free account registration, so we were unable to determine if this suspicious broker has any trading software.
Financial scammers sometimes prefer to handpick their potential victims through social networks and online forums, which is why they do not allow free registration. Genuine brokers allow easy Demo account creation.
If you use the services of a licensed broker, you will get the opportunity to use established software with advanced features and versions for all types of devices and operating systems. The most widely used trading platforms in the industry are MetaTrader 4 (MT4) and MetaTrader 5 (MT5).
AAATradecn Trading instruments
| | | | | | |
| --- | --- | --- | --- | --- | --- |
| | Currency | Stocks | Indices | Crypto | Commodities |
| AAATradecn | ✅ | ✅ | ✅ | ✅ | ✅ |
| XM | Yes | Yes | Yes | Yes | Yes |
| FBS | Yes | Yes | Yes | Yes | Yes |
| FXTM | Yes | Yes | Yes | Yes | Yes |
AAATradecn does not provide clear and detailed information on tradable instruments as you will find on the websites of legitimate forex brokers. But most importantly, trading offered by an unregulated website could be fictitious.
AAATradecn Spreads and cost of trading
| | | | | |
| --- | --- | --- | --- | --- |
| | AAATradecn | XM | FBS | FXTM |
| Spread EURUSD | 3 | 0.6 | 1 | 1.1 |
| Spread GBPUSD | 3 | 1.3 | 1.2 | 1.4 |
| Spread USDJPY | 3 | 1.3 | 1.2 | 1.4 |
AAATradecn advertises a spread of 3 pips for a starter account. This level is actually very unprofitable and uncompetitive because it is double the industry average.
AAATradecn Maximum leverage
AAATradecn offers very high leverage levels between 1:200 and 1:1000 for the different account types. Regulated brokers do not offer such levels to retail traders as trading with high leverage carries risks of sudden and excessive losses.
If you are willing to take the risk of trading with high leverage and benefit from bonuses and promotions, the best option is to invest through an offshore division of an established brand.
AAATradecn Deposit and withdrawal methods
Due to our inability to register an account, we were unable to ascertain what payment methods AAATradecn uses. Experience has shown that fraudsters direct their potential victims to cryptocurrency transactions that do not allow refunds to be requested.
Legitimate brokers typically offer clients a wide choice of transparent payment methods, including bank transfer, credit/debit cards and established e-wallets such as PayPal, Skrill or Neteller.
AAATradecn Minimum deposit
| | | | | |
| --- | --- | --- | --- | --- |
| | AAATradecn | XM | FBS | FXTM |
| Minimum deposit | $500 | $5 | $10 | $5 |
AAATradecn requires a minimum deposit of 500 USD. For ten or even a hundred times less you could open a starter trading account with an established and regulated forex broker.
AAATradecn Withdrawal requirements
AAATradecn charges a hefty withdrawal fee of 25 USD. Genuine brokers rarely charge transaction fees.
If the account has received a bonus, it can only withdraw funds after meeting the high minimum traded volume requirements. These requirements are described rather vaguely – number of lots equal to the deposit amount divided by five. This means that a bonus of 1,000 USD requires trading 200 lots of 100,000 currency units each.