Beware! Capital Adventure is an offshore broker! Your investment may be at risk.
RECOMMENDED FOREX BROKERS
Don't put all your eggs in one basket. Open trading accounts with at least two brokers.
Capital Adventure will not be useful to you as a forex broker through which to invest in the financial markets. But this website can be useful as an illustrative example of how to tell the fake brokers from the real ones. In this review, we will look at all the evidence that Capital Adventure is a scam. These clues are so many that they can serve as a lesson in how to recognize other similar scams.
Capital Adventure Regulation and safety of funds
Legitimate forex brokers provide clear and detailed information about the legal entity that owns and operates them, where it is based, what licences it has and which regulators oversee its activities. Lack of such details or improper presentation of them are always a red flag that we are probably dealing with a scam.
On the home page we see a statement that this broker is licensed by regulators in the UK, Cyprus, South Africa and the Bahamas. But at the same time, no company name or details of regulatory licences are given.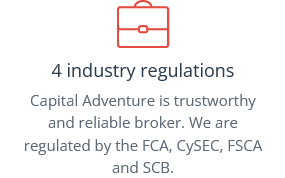 The contact address is in the United Kingdom.
A text document can be found on the website claiming that there are several companies behind the Capital Adventures brand – Ct Capitalltraders Ltd in Cyprus, Capital Direct Management Ltd in the UK and  Advanced Capital Corporation in Canada.
These companies exist and are indeed licensed, but they operate through different brands and domains than Capital Adventures. The website illegally presents itself as affiliated with these legitimate companies.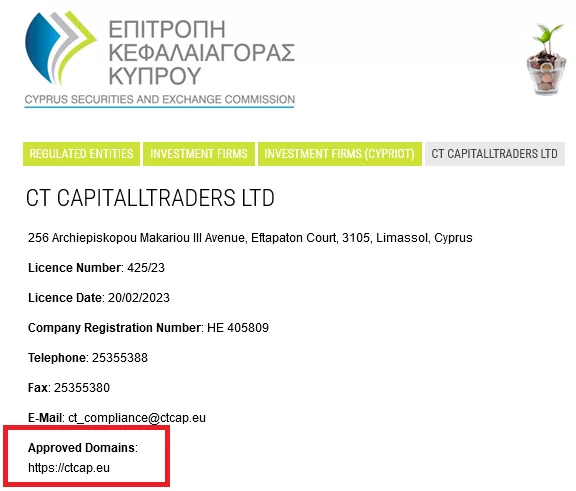 The text of the Terms and Conditions does not specify a company name and states that the applicable jurisdiction is Bulgaria.
However, the Bulgarian Financial Supervision Authority's database contains a warning that Capital Adventure is not authorised.

The warning was originally issued by the financial authorities in Greece.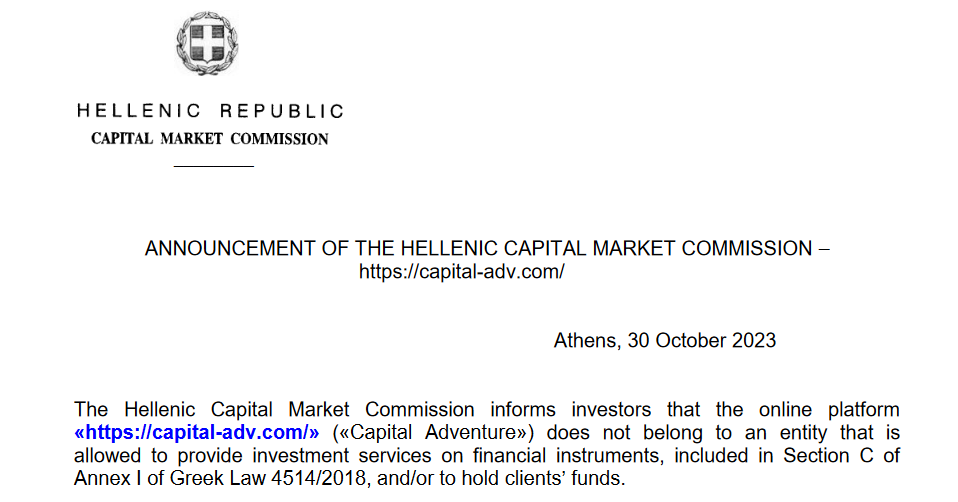 When choosing a broker through which to invest in the financial markets, you should not only make sure that all the information required by law is available, but also that this information is true. Always check that the company is indeed on the records of the specified regulator and that the domain used is among those officially approved for the particular broker.
There are many benefits for retail traders to trade through a thrully licensed broker in the EU. These brokers must maintain a minimum net capital of at least EUR 730 000, which guarantees that the company is financially stable and has a serious long-term approach. When clients deposit money in their trading accounts, they are kept segregated from the broker's operating funds in separate bank accounts. Thus the clients' money remains shielded in case of mishaps like a broker's bankruptcy.
All brokers licensed in Cyprus and other EU countries are members of the Investor Compensation Fund, which may cover a maximum of EUR 20,000 per person in the event of broker insolvency. EU forex brokers are required to report their clients' transactions on a regular basis. This requirement is designed to improve investor protection and promote market integrity and transparency.
Capital Adventure Trading software
| | | | | |
| --- | --- | --- | --- | --- |
| | Analytical tools | Auto trading | Custom indicators | Mobile apps |
| Capital Adventure platform | ✅ | ❌ | ✅ | ❌ |
| MT4 | 30+ indicators | ✅ | ✅ | Android and iOS |
| MT5 | 50+ indicators | ✅ | ✅ | Android and iOS |
| cTrader | 40+ indicators | ✅ | ✅ | Android and iOS |
Capital Adventure promises a robust, feature-rich and easy-to-use platform. But it actually implements pretty basic software without advanced features.
It should be noted that the presence of a trading platform does not make this website any more legitimate and does not guarantee that this alleged broker offers real trading. Many scammers use rigged trading software to fool their victims that their money is being invested.
Legitimate brokers offer clients a wide selection of trading software, including desktop, mobile apps and web-based platforms. The most widely used platforms in the industry are MetaTrader 4 (MT4) and MetaTrader 5 (MT5). These platforms have established themselves as industry standard because they offer a wide range of features, including a variety of options for customization, multiple account usage, designing and implementing custom scripts for automated trading and backtesting trade strategies.
Capital Adventure Trading instruments
| | | | | | |
| --- | --- | --- | --- | --- | --- |
| | Currency | Stocks | Indices | Crypto | Commodities |
| Capital Adventure | ✅ | ✅ | ✅ | ✅ | ✅ |
| XM | Yes | Yes | Yes | Yes | Yes |
| FBS | Yes | Yes | Yes | Yes | Yes |
| FXTM | Yes | Yes | Yes | Yes | Yes |
The trading platform includes all major asset classes, including cryptocurrencies.
Brokers that are truly based in the United Kingdom do not offer trading in crypto derivatives because this is prohibited by the FCA.
Capital Adventure Spreads and cost of trading
| | | | | |
| --- | --- | --- | --- | --- |
| | Capital Adventure | XM | FBS | FXTM |
| Spread EURUSD | 5.4 | 0.6 | 1 | 1.1 |
| Spread GBPUSD | 5.4 | 1.3 | 1.2 | 1.4 |
| Spread USDJPY | 5.4 | 1.3 | 1.2 | 1.4 |
In the trading platform we see a spread of over 5 pips. In the industry, even a spread of 2 pips is considered too high and disadvantageous for the customer.
Capital Adventure Maximum leverage
As further proof that this is not a regulated broker, Capital Adventure offers very high leverage up to 1:500.
High leverage creates the opportunity for more significant profit, but correspondingly increases the risk of sudden and excessive losses. All leading regulators therefore restrict leverage for retail traders. The FCA, like EU regulators, limits leverage to 1:30 for trading in major currency pairs and even lower levels for more volatile assets. In the US and Canada, the maximum limit is slightly higher at 1:50.
Another such piece of evidence is the claim that Capital Adventure  offers bonuses. Regulated brokers are prohibited from offering bonuses and promotions. Scammers often use promises of supposedly generous bonuses to tie their potential victims to extortionate terms
If you are nevertheless willing to take the risk of high-leverage trading and want to take advantage of bonuses, promotions and prize games, the best option is to use the services of offshore brokers operating under an established brand.
Capital Adventure Deposit and withdrawal methods
At the time of writing this review the deposit menu was not active. We were therefore unable to ascertain what payment methods were available.
Experience has shown that fake brokers routinely advertise conventional payment methods, but actually steer their potential victims towards cryptocurrency transactions. This not only guarantees them anonymity, but also deprives the defrauded of the option to request a refund or chargeback.
Legitimate brokers typically offer clients a wide choice of transparent payment methods, including bank transfer, credit/debit cards and established e-wallets such as PayPal, Skrill or Neteller.
Capital Adventure Minimum deposit
| | | | | |
| --- | --- | --- | --- | --- |
| | Capital Adventure | XM | FBS | FXTM |
| Minimum deposit | $250 | $5 | $10 | $5 |
Capital Adventure specifies a minimum deposit of 250 USD, which is the industry standard. But this means that for the same amount you could open a trading account with an established and duly licensed forex broker. Some of the leading brands in the industry offer Micro and Cent accounts with a very low entry threshold that are suitable for novice investors.
Capital Adventure Withdrawal requirements
In the text of the Terms and Conditions we find typical scam clauses. If the account has no trading activity, Capital Adventure charges a huge withdrawal fee of 30%, but no less than 80 USD. The fee for inactivity is also substantial – 100 USD per month.