Beware! MetaPro Trades is an offshore broker! Your investment may be at risk.
RECOMMENDED FOREX BROKERS
Don't put all your eggs in one basket. Open trading accounts with at least two brokers.
At first glance, MetaPro Trades' website could mislead one into believing that it is indeed the award-winning and regulated broker it portrays itself to be. But even a basic fact check reveals that this is not true.
In this review, we'll show you the clues that MetaPro Trades is a scam, and point you to more credible alternatives for investing in the financial markets.
MetaPro Trades Regulation and safety of funds
When you visit the website of a legitimate broker you can expect to find clear and detailed information about the company that owns and operates it, where it is based and what regulatory regimes it is subject to. Licensed financial services providers are also required to provide a comprehensive set of legal documentation.
MetaPro Trades does not provide access to the Terms and Conditions, Customer Agreement, Privacy Policy or other required documentation. MetaPro Trades Ltd is listed as the owner of the website, but we have found no evidence that this legal entity actually exists.
MetaPro Trades  alleges that it is regulated by the IFSC. This abbreviation is of the old and now defunct name of the financial regulator in Belize.
However, MetaPro Trades  is not among the companies registered in this offshore zone.
MetaPro Trades  also claims to be a member of the private self-regulatory institution the Financial Commission, but this is also not true.
According to the information on its website,MetaPro Trades is headquartered in the Netherlands.

An offshore broker could not legally operate in a regulated jurisdiction. MetaPro Trades  is not among the brokers licensed by the Netherlands Authority for the Financial Markets (AFM).
We find information about MetaPro Trades only on the website of the financial authorities in the Canadian province of British Columbia, which have blacklisted this website.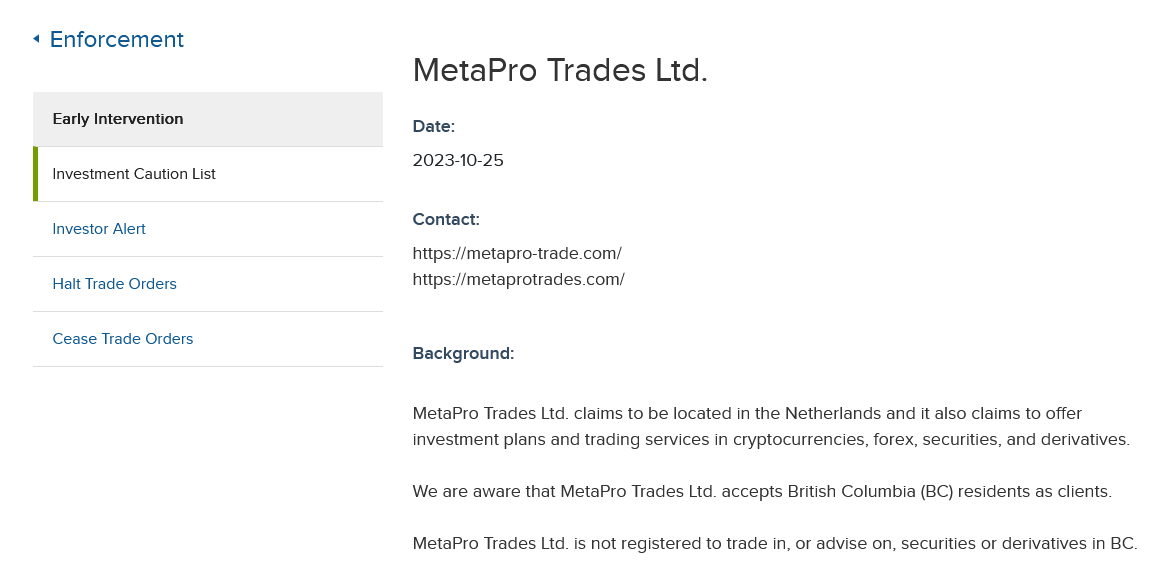 If you have decided to invest in financial instruments you have a choice of much more trustworthy options.
You should only trust legitimate brokers operating in one of the established financial centres like the UK, EU, USA or Australia. There, the activities of brokers are controlled by powerful regulatory bodies such as UK's Financial Conduct Authority (FCA), Cyprus Securities and Exchange Commission (CySEC), Commodity Futures Trading Commission (CFTC) in US or Australian Securities and Exchanges Commission (ASIC). Clients of these brokers receive protections such as negative balance protection and segregation of the client's funds from the broker's funds.
In the EU and the UK, brokers must also participate in guarantee schemes that cover a certain amount of the trader's investment if the broker becomes insolvent. These guarantees amount to up to 20 000 EUR in the EU and 85 000 GBP in the UK.
MetaPro Trades Trading software
| | | | | |
| --- | --- | --- | --- | --- |
| | Analytical tools | Auto trading | Custom indicators | Mobile apps |
| MetaPro Trades platform | ❌ | ❌ | ❌ | ❌ |
| MT4 | 30+ indicators | ✅ | ✅ | Android and iOS |
| MT5 | 50+ indicators | ✅ | ✅ | Android and iOS |
| cTrader | 40+ indicators | ✅ | ✅ | Android and iOS |
MetaPro Trades claims to offer a choice of the industry's most popular trading platforms, including Metatrader 4 and 5, cTrader and WebTrader. But the website lacks download links for any of these platforms. At the time of writing this review, it was not possible to register a new account, so we were unable to ascertain whether or not MetaPro Trades actually has trading software.
There are plenty of legitimate, regulated brokers who enable their clients to take advantage of MetaTrader 4 (MT4) and MetaTrader 5 (MT5)'s capabilities. These platforms have established themselves as industry standard because they offer a wide range of features, including a variety of options for customization, multiple account usage, designing and implementing custom scripts for automated trading and backtesting trade strategies.
MetaPro Trades Trading instruments
| | | | | | |
| --- | --- | --- | --- | --- | --- |
| | Currency | Stocks | Indices | Crypto | Commodities |
| MetaPro Trades | ✅ | ✅ | ✅ | ✅ | ✅ |
| XM | Yes | Yes | Yes | Yes | Yes |
| FBS | Yes | Yes | Yes | Yes | Yes |
| FXTM | Yes | Yes | Yes | Yes | Yes |
MetaPro Trades  advertises trading in a large number of financial instruments from all major asset classes. However, such scam websites offer only fictitious trading to deceive their potential victims that their money is actually invested.
MetaPro Trades Spreads and cost of trading
| | | | | |
| --- | --- | --- | --- | --- |
| | MetaPro Trades | XM | FBS | FXTM |
| Spread EURUSD | ❌ | 0.6 | 1 | 1.1 |
| Spread GBPUSD | ❌ | 1.3 | 1.2 | 1.4 |
| Spread USDJPY | ❌ | 1.3 | 1.2 | 1.4 |
MetaPro Trades claims to offer a very low spread, but does not provide clear information on the terms of trade.
MetaPro Trades Maximum leverage
MetaPro Trades advertises a very high leverage of 1:2000, which may also serve as proof that it is not a regulated broker. Regulated brokers do not offer such levels to retail traders as trading with high leverage carries risks of sudden and excessive losses.
Higher levels of leverage are only offered to professional clients who trade entirely at their own risk. If you don't qualify as a professional trader but are willing to take the risk of high-leverage trading, the most viable option is to use the services of an offshore affiliate of an established brand.
MetaPro Trades Deposit and withdrawal methods
Due to our inability to register an account, we were unable to ascertain what payment methods MetaPro Trades uses. Experience has shown that fraudsters direct their potential victims to cryptocurrency transactions that do not allow refunds to be requested.
Legitimate brokers typically offer clients a wide choice of transparent payment methods, including bank transfer, credit/debit cards and established e-wallets such as PayPal, Skrill or Neteller.
MetaPro Trades Minimum deposit
| | | | | |
| --- | --- | --- | --- | --- |
| | MetaPro Trades | XM | FBS | FXTM |
| Minimum deposit | $500 | $5 | $10 | $5 |
MetaPro Trades  requires a minimum deposit of 500 USD. For ten or even a hundred times less you can open a starter trading account with a reputable and regulated forex broker.
MetaPro Trades Withdrawal requirements
The lack of a publicly available Terms and Conditions or Client Agreement means that scammers may have set many traps such as hidden fees and impossible-to-meet  withdrawal terms.