Beware! SSL-kzz is an offshore broker! Your investment may be at risk.
RECOMMENDED FOREX BROKERS
Don't put all your eggs in one basket. Open trading accounts with at least two brokers.
SSL-kzz wants to convince us that it would be a good idea to invest in the financial markets through "the best CFD platform in Europe". But fact-checking shows that this is not a legitimate broker operating in Europe at all. In this review, we will show you how to distinguish the trustworthy brokers from the scams.
SSL-kzz Regulation and safety of funds
The most important information about a financial services provider is its regulatory status. Licensed brokers provide detailed information about which company runs them, where it is based, which jurisdictions it is authorised in and which regulatory bodies oversee its activities.
On the homepage of the website, we see an image of a licence in the name of the SSLKZZ Ltd company from the financial authorities in Vanuatu.
But this company is not listed among those registered in this country. Besides, Vanuatu is an offshore zone where there are no regulations for forex brokers.
SSL-kzz lists an address in Liechtenstein. An offshore broker is not allowed to offer financial services in a regulated jurisdiction.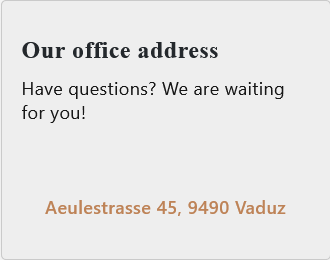 The Liechtenstein Financial Market Authority (FMA) confirms this – the institution has blacklisted SSL-kzz.
If you have decided to invest in financial instruments, and especially if you are a novice trader, you should use the services of a licensed broker based in a jurisdiction with strong regulations.
There are many benefits for retail traders to trade through a licensed broker in the EU. These brokers must maintain a minimum net capital of at least EUR 730 000, which guarantees that the company is financially stable and has a serious long-term approach. When clients deposit money in their trading accounts, they are kept segregated from the broker's operating funds in separate bank accounts. Thus the clients' money remains shielded in case of mishaps like a broker's bankruptcy.
All brokers licensed in Cyprus and other EU countries are members of the Investor Compensation Fund, which may cover a maximum of EUR 20,000 per person in the event of broker insolvency.
SSL-kzz Trading software
| | | | | |
| --- | --- | --- | --- | --- |
| | Analytical tools | Auto trading | Custom indicators | Mobile apps |
| SSL-kzz platform | ✅ | ❌ | ✅ | ❌ |
| MT4 | 30+ indicators | ✅ | ✅ | Android and iOS |
| MT5 | 50+ indicators | ✅ | ✅ | Android and iOS |
| cTrader | 40+ indicators | ✅ | ✅ | Android and iOS |
SSL-kzz implements a basic web-based trading platform. here's what it looks like:
While the platform has the basic features for placing orders, customising charts and application of technical indicators, it lacks the more advanced functionality found in the most widely used trading platforms in the industry, MetaTrader 4 (MT4) and MetaTrader 5 (MT5). These platforms have established themselves as industry standard because they offer a wide range of features, including a variety of options for customization, multiple account usage, designing and implementing custom scripts for automated trading and backtesting trade strategies.
It should be noted that the presence of a trading platform does not make this website any more legitimate and does not guarantee that this alleged broker offers real trading. Many scammers use rigged trading software to fool their victims that their money is being invested.
SSL-kzz Trading instruments
| | | | | | |
| --- | --- | --- | --- | --- | --- |
| | Currency | Stocks | Indices | Crypto | Commodities |
| SSL-kzz | ✅ | ✅ | ✅ | ✅ | ✅ |
| XM | Yes | Yes | Yes | Yes | Yes |
| FBS | Yes | Yes | Yes | Yes | Yes |
| FXTM | Yes | Yes | Yes | Yes | Yes |
SSL-kzz advertises trading in all major asset classes. But we have no guarantees that this unregulated website offers real trading.
SSL-kzz Spreads and cost of trading
| | | | | |
| --- | --- | --- | --- | --- |
| | SSL-kzz | XM | FBS | FXTM |
| Spread EURUSD | 0.9 | 0.6 | 1 | 1.1 |
| Spread GBPUSD | 0.9 | 1.3 | 1.2 | 1.4 |
| Spread USDJPY | 0.9 | 1.3 | 1.2 | 1.4 |
In the trading platform we see a low spread of about 0.9 pips. But as noted, this trade is in all likelihood fictitious. It is not clear whether SSL-kzz charges additional commissions.
SSL-kzz Maximum leverage
SSL-kzz offers a leverage of 1:50, which is higher than the level allowed to brokers in Europe. Regulated brokers do not offer such levels to retail traders as trading with high leverage carries risks of sudden and excessive losses.
Regulated brokers offer higher leverage only to professional clients who must meet very high standards for capital and experience and forgo the guarantees enjoyed by retail traders.
If you don't qualify as a professional trader but are willing to take the risk of high-leverage trading, the most viable option is to use the services of an offshore affiliate of an established brand.
SSL-kzz Deposit and withdrawal methods
| | | | |
| --- | --- | --- | --- |
| | Deposit time | Withdrawal time | Price |
| Crypto | 24 hours | 24 hours | Fee depends on crypto |
SSL-kzz only allows the deposit of funds with cryptocurrencies. This is typical of financial scammers. Cryptocurrencies are their payment method of choice because on the one hand they allow the scammer a degree of anonymity, and on the other hand they do not allow the scammed to ask for a refund.
If you're interested in legitimate brokers that accept digital currency payments alongside conventional methods, check out this list. Legitimate brokers typically offer clients a wide choice of transparent payment methods, including bank transfer, credit/debit cards and established e-wallets such as PayPal, Skrill or Neteller.
SSL-kzz Minimum deposit
SSL-kzz requires a minimum deposit of 500 USD. For a significantly lower amount, sometimes as little as 5 USD, you could become a client of a reputable and duly licensed forex broker.
SSL-kzz Withdrawal requirements
SSL-kzz does not specify extraordinary conditions for withdrawal. But these types of scams always surprise you with hidden fees and other tricks that prevent you from withdrawing your money back.